Off the court, Duke's Mikayla Boykin has found her voice. On the court, the best is yet to come.
A rising redshirt junior, Duke's Mikayla Boykin is using her platform and newfound skills in hip-hop to be a voice for change following the death of George Floyd.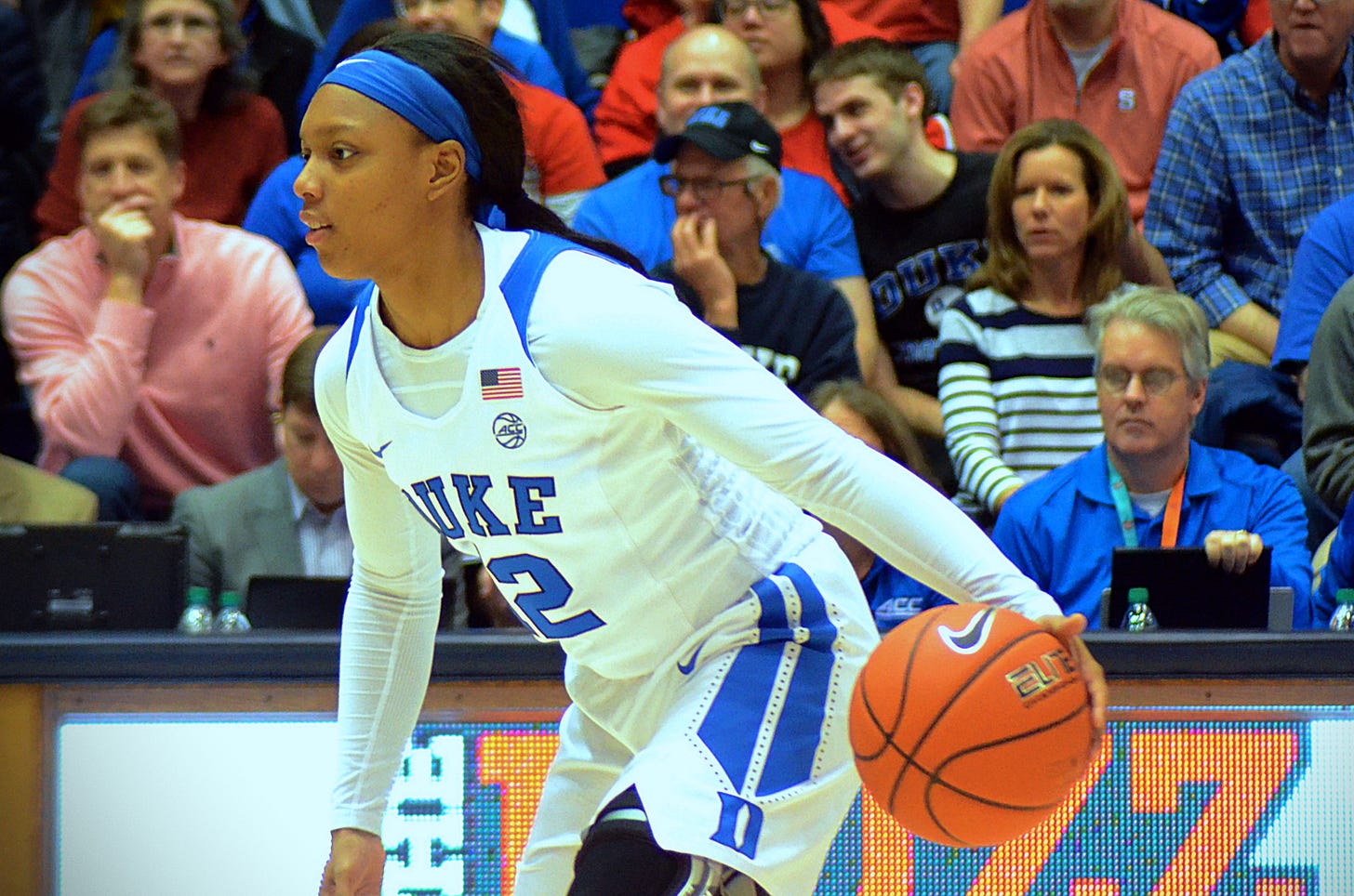 We've watched her dribble, dish, shoot and score. But now, it's time we sit back and listen.
Mikayla Boykin — a rising redshirt junior guard at Duke — has something to say. And in her isolation from the coronavirus, she figured out the best way to deliver her message was through hip-hop. Boykin's father introduced her to rap when she was growing up in Clinton, North Carolina. Now, she's discovered her talent in rhyming and making words fit and flow together.
"When I was younger, he said I would always try to make songs with him. But I didn't really start taking it seriously until we got into quarantine," Boykin said. "And one day I was just thinking and I ended up writing a song. I was like, 'Whoa. I did not expect that to happen.' It was just weird how it all happened."
The inspiration for her first song came from watching "The Last Dance," the ESPN documentary series on Michael Jordan. She recorded it and showed it to some friends who said, "You need to put that out." So, she did. And it blew up, getting nearly 14,000 views on Twitter and few thousand more on Instagram. Her next effort — in which she glided over J. Cole's "High for Hours" — picked up about 9,000 views between the two social media platforms. Another video got about 5,000 views.
Boykin put out those trio of freestyles before George Floyd — an unarmed 46-year-old black man — was killed by a white police officer in Minneapolis on May 25. The officer jammed his knee into Floyd's neck for nearly nine minutes. His death set off protests across the nation. And it sparked Boykin to step out of her comfort zone and write another song. The words came together in less than an hour, then she spent the next few hours recording. The final product was emotional, concise, powerful and contagious. More than 42,000 people watched it.
"Who knew that being black and breathing was illegal?"
"This ain't a call for help, it's a call for action."
Boykin's activism didn't stop there. She's been to protests, she's made her feelings known in her Tweets and she's used her platform to support black businesses in her hometown.
"Proud. Mikayla is one very special individual," Duke head coach Joanne P. McCallie wrote in a tweet. "Her heart, passion and talent says it all."
Because of unfortunate injuries, Boykin has had somewhat of a quiet college basketball career so far at Duke. But her voice has stood out in this moment in America. And with an offseason where she doesn't have to worry about rehabbing from an injury, she might be due for her best season yet on the court when basketballs start bouncing again.
"As far as my game, I'm kind of excited to bring a lot of things that I've been working on," Boykin said. "I've been really working on my mid-range game. That's something I'm super big on and I'm ready to implement those things."
---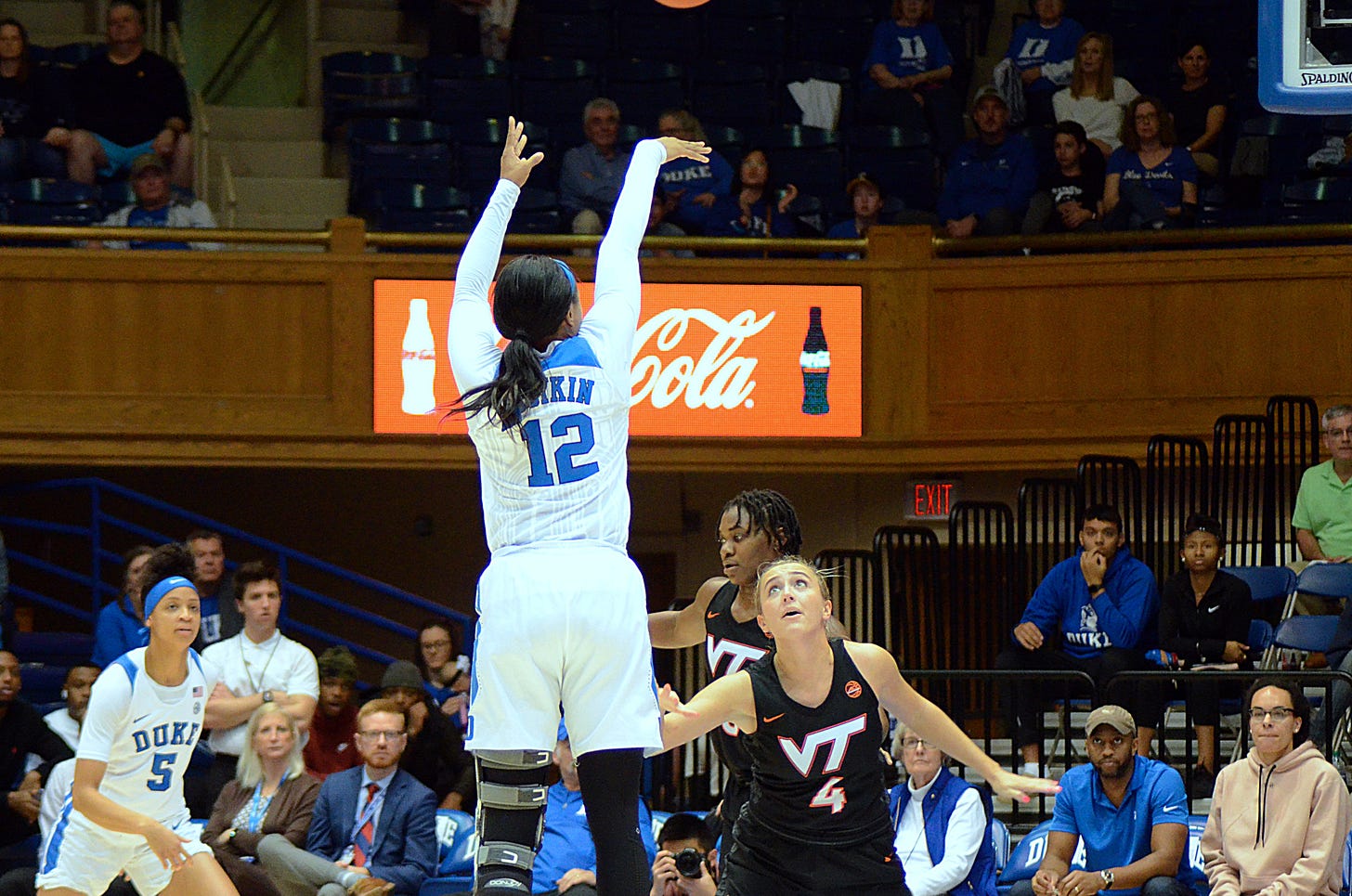 Recovering from her most recent torn ACL, Boykin missed the first two months of this past season and didn't make her debut until Jan. 2 against Wake Forest. She was placed on a minutes-restriction, but in her fourth game back she gave everyone a glimpse into what she was capable of at full strength.
"It's kind of hard to build up and get back in that flow and game shape. Once I was done with my minutes-restriction, I was able to get back into my groove and the way that I normally play," Boykin said. "So, that was one of the games where I sprouted out, because I definitely played 20-plus minutes."
That game was on Jan. 12, a Sunday afternoon inside Cameron Indoor Stadium. The Blue Devils were hosting Virginia Tech and had their backs against the wall as their season hung in the balance. Duke had lost five straight games, had a 7-8 overall record and were off to a disappointing 1-3 start in ACC play. They had struggled mightily in closing games, notching four losses where the victor separated themselves by two possessions or less.
But on that day against the Hokies, Boykin would not let the Blue Devils fail. It's unclear what Boykin turned to for warm-up music that afternoon — she likes to start off with softer hip-hop, like her favorite rapper J.Cole, then switch to something harder, like Meek Mill. Whatever it was, when she laced up her low Kyrie's, she was ready to carry her squad. (It's also possible that Boykin was energized by a pre-game visit to Waffle House. Her go-to order at the marvelous and welcoming diner is two waffles, four eggs scrambled with cheese, and a glass of water.)
Down seven points to the Hokies with five minutes remaining, she flushed a trio of shots in the span of two minutes to bring Duke within a point of the lead. Then she dished an assist to Leaonna Odom with 20 seconds left for the game-tying bucket, pushing the game into overtime. In the extra period, Boykin sank another two-point jumper and a free throw, giving Duke the win.
That victory over Virginia Tech was the first of 11 wins for Duke over their next 14 games. They entered the ACC tournament as the No. 3 seed and received votes in the final AP Top 25 Poll. Duke would've been bound for the postseason, were it not for the coronavirus.
The NCAA pulled the plug on its men's and women's basketball tournaments on March 12. Boykin was expecting something to happen to the tournament because of COVID-19, she just wasn't sure what. Earlier that Thursday, she and roommate Haley Gorecki were hanging out in their apartment, waiting on some kind of news to drop.
Boykin said it jokingly at first: "Haley, I really think they're about to like, end our season."
Then, two minutes later, their phones buzzed. Their season was over.
"Our mouths dropped. Like, what? That was crazy. We were in shock," Boykin said. "We thought they were just going to push the season back a little bit. When we heard it was officially canceled, we were kind of hurt. And I was hurt for Haley because it was her senior year."
For the Duke players, that was it. There was no formal meeting to commiserate with the seniors, or to look back on the incredible run the Blue Devils went on in the second half of the season.
"It happened so fast that we didn't even get a chance to sit down and talk to each other about it," Boykin said. "They booked everyone's flights and everybody has to get out and go. We left that Sunday and went home. It happened so fast that we couldn't wrap our arms around it."
Since the season ended, Boykin returned to Clinton and has been with her mom, dad, grandpa and two brothers. The family got a new house recently, and they christened the front yard with a new basketball hoop that Boykin has been putting a lot of hours on.
Boykin finished the season averaging 7.1 points per-game, which was fifth-best on the team. She was also third on Duke with 50 assists and led the team in three-point shooting with a 40.5 percent mark. Her shooting — particularly her pull-up jumper — is something Boykin has added to her game since her knee injuries have piled up. In high school, she relied heavily on driving to the basket and taking hits in traffic. With an efficient stretched out game, she's preserved her body.
"I felt like I needed to make a couple of changes to my game," Boykin said. "I've had a lot of surgeries and I felt that if I was able to have a better two-point game — or jump-shot game — and a three-point game that it would open up easier lanes for me to get to the basket and I wouldn't have to force a lot of things to go to the basket. And that would put a lot less pressure on my legs."
Boykin worked out with Gorecki and Kyra Lambert last summer to improve her shooting. She's hoping those tweaks to her game will prevent her from needing a fifth surgery on her knees. Her left knee has been operated on three times, while her right has been surgically repaired once. Each injury was related to the ACL.
Once she resumed play this past season, Boykin says she was 100 percent healthy, but also said that she felt like she didn't "reach that level to like 130 percent, where I'm back to my normal self." Boykin said she got more and more comfortable as the season went on. That showed itself some down the stretch of the season, as she had five or more assists in five of the last eight games of the season. She chalked up 15 points in a Feb. 9 win at Miami, and nine points in a March 1 victory at rival UNC.
Without an injury to recover from this offseason, Boykin can simply focus on sharpening her game. And next season, with Gorecki, Lambert and Odom gone, Boykin seems like the likely successor to become the leader of the Duke offense.
"I feel like I have shaped myself into that leadership role," Boykin said. "I feel like we're all going to bring a lot of good things to the team. I feel like everyone is going to flow into a new role because we are losing a lot of people. But I feel like we have a lot of key pieces… I'm just excited to be able to build that new chemistry and just building those bonds again."
---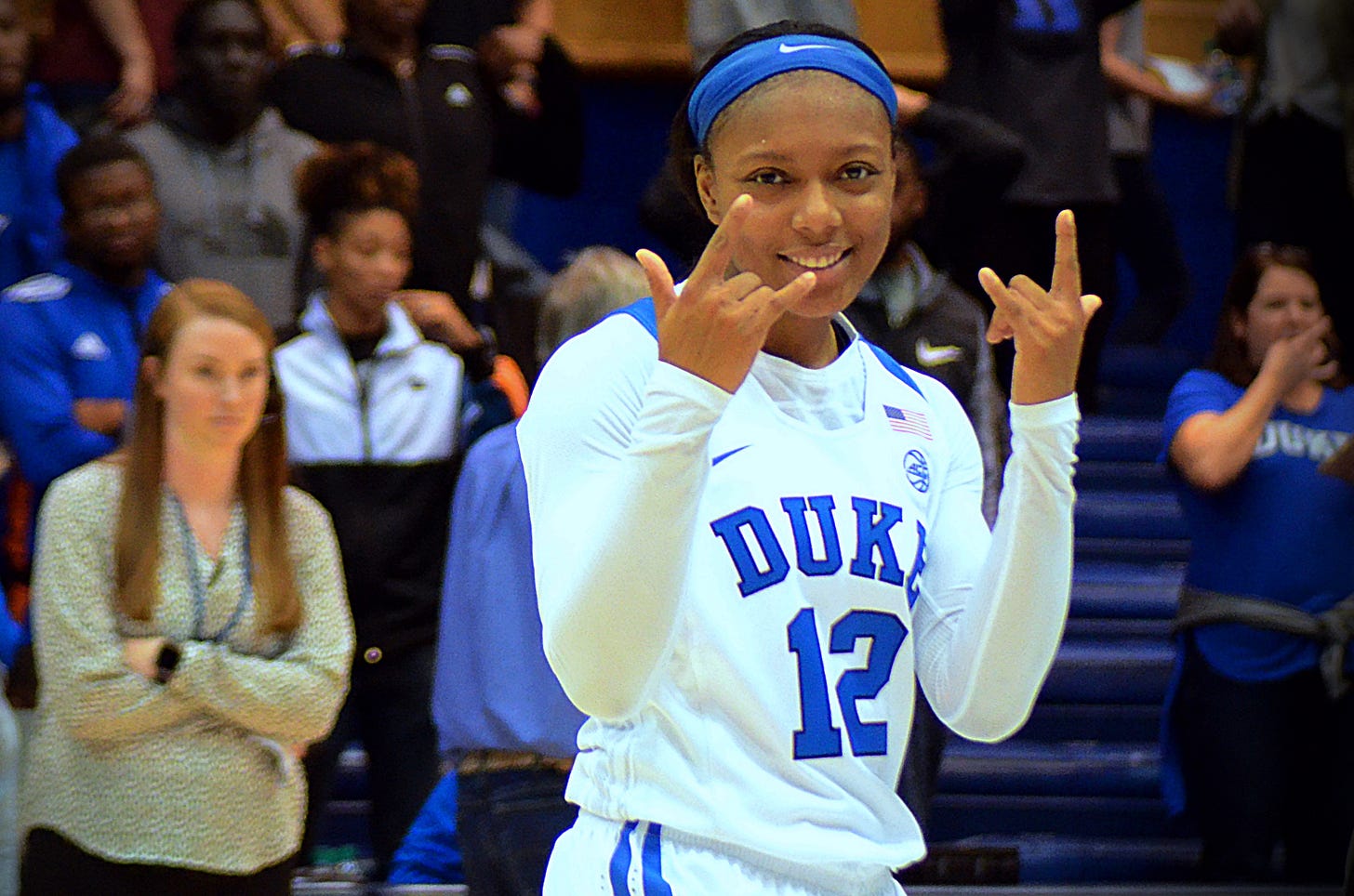 Being the leader — or the star — on the team should be nothing new for Boykin.
At Clinton High School, nestled in a town of less than 9,000 people east of Fayetteville, Boykin was the focal point of her team's offense and dragged them to a state championship in 2017. Clinton won that title in Reynolds' Coliseum, which is why it remains one of Boykin's favorite road ACC venues to play in. As a senior at Clinton, she averaged a North Carolina state record 37.4 points per-game, along with 13.7 rebounds, 6.5 assists, and 5.6 steals per-game. She twice broke the state's single game scoring record (62 and 63 points) and notched three quadruple-doubles. HighSchoolOT.com dubbed her as the Player of the Decade for girls' basketball in the Tar Heel State.
Balling out and leading Clinton to a title her senior year meant a whole lot to Boykin. Not only because she wanted to put on for her hometown, but also because she missed her sophomore and junior years because of her first knee injury; a torn ACL at an AAU game in Tennessee in the summer. She re-tore it the next April.  Finally healthy as a senior, she had to make up for missed time.
"Once I got to my senior year, I didn't play for so long that it was like, different, and I felt like, you know, a lot of people missed out on what I thought I felt in my game," Boykin said. "I feel like me having that breakout senior year and winning the state championship was something that my city needed. I feel like the entire city was in the gym at the same time. There were more fans for us than any other school. I felt like that gave my city motivation that they needed, to just believe in themselves and do things that they felt like they can accomplish because we were able to accomplish certain things like that."
One thing Boykin didn't have to worry about in high school was recruiting. She committed to Duke in the eighth grade and the Blue Devils stuck with her through everything.
"Duke has been with me through the entire ride. That's why I'm so keen on Duke," Boykin said. "They've always been there for me and had my back through every one of my surgeries. Coach P always makes sure I'm straight."
Boykin is entering her fourth year at Duke but has two years of eligibility remaining. She'll finish her undergrad degree in sociology and market management studies this upcoming school year, then plans to pursue a master's degree in business at Duke.
Without Gorecki, Odom and Lambert, it's unknown what Duke will look like this coming season. What's clear is that, wherever Duke's ceiling is set, Boykin will give it her all to push the Blue Devils through it.
Off the court, Boykin's voice has been recognized and amplified over the past few weeks. Her rap skills were unexpected, but another surprise is coming. On the court, the rest of the ACC is about to see what she's really capable of.
---
(Subscribe below. When you hit the subscribe button, you'll notice there's options for free, monthly and yearly subscriptions. For now, all of these posts are going to be free and visible to everyone. But if you want to throw me $5 a month, I won't stop you.)
---
"World going one way, people another, yo."
---
Mitchell Northam is an award-winning journalist based in North Carolina. He grew up on the Eastern Shore of Maryland and is a graduate of Salisbury University. His work has been featured at WUNC, the Atlanta Journal-Constitution, the Orlando Sentinel, SB Nation, NCAA.com, the Delmarva Daily Times, Sports Illustrated, Pittsburgh Sports Now and elsewhere. He is a member of APSE, NWSLMA and USBWA. He's on Twitter 

@primetimeMitch

. More of his work can be found at 

MuckRack

.