ACC women's basketball: Despite transfers, the sky is not falling at Virginia Tech
Under Kenny Brooks, and with Elizabeth Kitley, the future is still bright for the Hokies.
Welcome back to All in the Game, y'all. Today's newsletter is a dive into what's next for one of the ACC women's basketball teams I covered this past season: Virginia Tech.
Past posts: Intro, Conravirus not an equalizer, Stewie vs. MJ, What to read and watch
To check out all of my women's basketball coverage from 2019-20, click here.
---
In Kenny Brooks' fourth year at the helm of the program, Virginia Tech's women's basketball team had arguably its best season in 20 years.
The Hokies captured 11 victories in ACC play, their most wins since joining the conference in 2004. They won their first game in rival Virginia's John Paul Jones Arena since 2016. They also won road games in Chapel Hill, South Bend and Winston-Salem. They entered the ACC tournament as the No. 5 seed.
And despite being upset by Wake Forest in Greensboro, the Hokies were a near lock to make the NCAA tournament for the first time since 2006. High Post Hoops' bracketologist Russell Steinberg had the Hokies pegged as a No. 9 seed in the Fort Wayne regional in his final projection, while ESPN bracketologist Charlie Creme had them slated for the No. 8 seed in the same region.
Virginia Tech had the third best defense in the ACC, allowing opponents to shoot just 37.1 percent from the floor. The Hokies were second in the conference in three-point defense, letting the opposition make just 27.5 percent of its beyond-the-arc attempts. They were also third in the ACC in blocks per-game (4.67), third in rebounds per-game (40.5) and third in three-point shooting (36.1 percent). In the 2019-20 season, opponents could expect the Hokies to play hard, to muck the game up, to knock down three's as well as they defend them and to play up to their competition. The Hokies gave No. 9 N.C. State a scare in Raleigh, lost to Duke in overtime in Durham and fell by just two points in Syracuse.
This year's NCAA tournament was canceled, but the future for Virginia Tech seemed bright. They wouldn't be dancing in 2020, but with the talent returning, they could count on being in the mix for a bid for the next few seasons.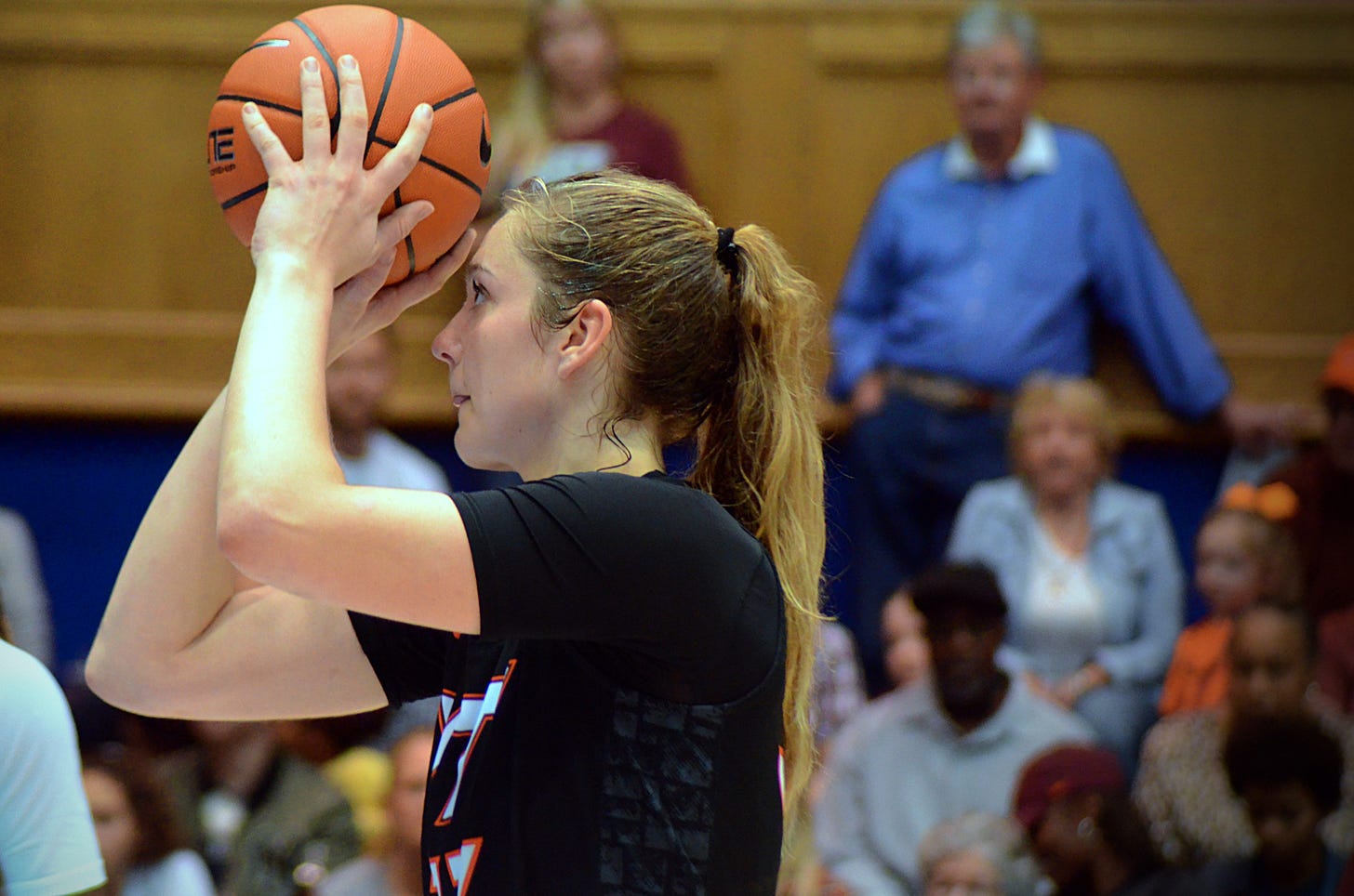 Well…
And then, two key returners bolted from Blacksburg. On March 17, starting sophomore guard Dara Mabrey announced her intent to transfer. Speaking to the local media, Brooks said of Mabrey's transfer: "There was no conversation. She sent me a text. I guess that's the way kids today communicate." And then he added: "I knew there was a strong possibility that it would happen… I knew she was unhappy with her role."
Earlier this week, Trinity Baptiste — the 2020 ACC Sixth Player of the Year — followed Mabrey into the transfer portal.
On Twitter, Baptiste wrote: "I gave everything I had to this program my last two years here. Everything I do and the game that I play is for God. I will allow God to guide me in the next chapter of my life. I am looking to be closer to home for family reasons."
Neither departure is insignificant for the Hokies.
As a freshman in the 2018-19 season, Mabrey set a Virginia Tech record with 80 made three-pointers in a single season and her 46.2 shooting percentage from beyond the arc was third best in the nation. She was an All-ACC Freshman team selection and pushed the Hokies into the third round of the WNIT. This past season, Mabrey slid over in the backcourt and sacrificed time with the ball in her hands to make way for grad transfer Taja Cole from Georgia. Cole wound up being an All-ACC honorable mention, a member of the ACC's All-Defense team and led the conference in assists with 6.6 dimes per-game.
Even with Cole graduating, it appeared that Mabrey wouldn't be returning to the point. That job will be left to either Georgia Amoore, a redshirt freshman from Australia who Brooks called "a tremendous player," or Wofford grad transfer Da'Ja Green, who led the SoCon in assists-turnover ratio last season.
"I can just only speculate that (Mabrey's) desire to be a point guard and understanding that it probably wasn't going to happen here was the main factor in her decision," Brooks told the Roanoke Times.
A 6-foot forward from Tampa, Florida, Baptiste may have been in line to start at the four next season with the graduation of Lydia Rivers. Baptiste started the first seven games of the season for the Hokies, then transitioned into an off-the-bench role. Still, she averaged 9.5 points and 6.4 rebounds per-game, playing 23 minutes a night. She was fifth on the team in scoring, third in rebounding and her 84.8 free throw percentage led the team.
Virginia Tech's loss could be a gain for USF, FGCU or another Florida-based school. Baptiste will be able to play right away as a graduate transfer.
Who's got next?
With Cole and Rivers graduating, with Mabrey and Baptiste transferring, one might ask: What exactly does Virginia Tech have left? What does the future hold for Brooks and the Hokies?
In the immediate future, the answer is Aisha Sheppard.
For the long-term, the Hokies would be smart to build around Elizabeth Kitley.
Sheppard had a breakout junior campaign and led the Hokies in scoring with 15.2 points per-game. She was second in the ACC in three-pointers made and twice made eight three's in a single contest. She was voted to the All-ACC First Team by the league's head coaches and to the All-ACC second team by its Blue Ribbon Panel.
Next season, Sheppard will likely still be a top scoring option the Hokies' offense, but the core of the program for the next few seasons will likely be its rising sophomore center, Kitley.
A 6-foot-5 native of Summerfield, North Carolina, Kitley quickly established herself as one of the top post players in the ACC this past season as a rookie. During her campaign to claim the 2020 ACC Freshman of the Year award, she was named Freshman of the Week three times and set a program record with a 57.3 shooting percentage from the floor in ACC play. Kitley was second on the team in scoring and rebounding with 12.5 points and 7.5 rebounds per-game. Kitley was also second in all of the ACC with 2.1 blocks per-game. Expect those averages to rise next season.
On Jan. 12, Virginia Tech lost a close game in overtime at Cameron Indoor Stadium, falling 72-67 to the Duke Blue Devils. But Kitley was simply phenomenal. She scored 21 points on 8-of-11 shooting and grabbed nine rebounds.
In overtime, the Hokies' mistake was not feeding Kitley. The only two points they scored in the extra period came off a pair of Kitley free throws. All eight of the Hokies' overtime shot attempts were three-pointers, and they were all misses.
Still, it was hard to ignore how well Kitley played. This writer asked Brooks in the post-game press conference: Was Kitley beginning to play some of her best basketball?
"No. She's not. No. And that's how much confidence I have in that kid. That kid's going to be good. She's going to be really good. You guys haven't even seen everything that she can do. She can shoot the three. It's just a matter of her getting comfortable," Brooks said. "I compare her a lot to (N.C. State's Elissa Cunane); they're best friends, they grew up together… She defers a lot. She doesn't think she's as good as she is. And once she figures out how good she really is, it's going to be crazy. It really is. She's that good. She's a smart kid. She loves to read scouts.

"I think she's going to be one of the better players to ever play at Virginia Tech."
The Duke game was just a sampling of what Kitley can become – a dominant inside scorer and a tenacious rebounder. She showed off her skills several times last season: scoring 27 points in her collegiate debut against St. Francis, notching back-to-back double-doubles at Virginia and vs. Boston College, and notching 21 points and 14 boards at her father's alma mater, Wake Forest.
So, despite the departures of key players, the sky is not falling for Virginia Tech.
Next season, in addition to the core of Kitley and Sheppard, they'll bring aboard Amoore, a 5-foot-5 guard who helped lead Australia's U18 team to a gold medal in the FIBA 3-on-3 Asia Cup in Malaysia. They'll add Green from Wofford, a veteran with a solid resume and skill-set, and Brooks will bring in an impressive freshman class featuring guard Shelby Calhoun, guard Shamarla King and forward Nevaeh Dean, each of which were McDonald's All-American nominees.
"This team has laid down a foundation for years to come, in my opinion, as far as where we want to be and how we want to be recognized," Brooks said after the Hokies' ACC tournament defeat. "I'm very excited for the future of this program."
And the rest of the ACC should not be.
---
(Subscribe below. When you hit the subscribe button, you'll notice there's options for free, monthly and yearly subscriptions. For now, all of these posts are going to be free and visible to everyone. But if you want to throw me $5 a month, I won't stop you.)
---
"I'll do what I can to help y'all, but the game is out there. And it's either play or get played."
---
Mitchell Northam is an award-winning journalist based in North Carolina. He grew up on the Eastern Shore of Maryland and is a graduate of Salisbury University. His work has been featured at the Atlanta Journal-Constitution, the Orlando Sentinel, SB Nation, NCAA.com, the Delmarva Daily Times, Sports Illustrated, Pittsburgh Sports Now, FanSided and elsewhere. He is a member of APSE, NWSLMA and USBWA. He's on Twitter 

@primetimeMitch

. More of his work can be found at 

MuckRack

.