After 33 years, Muffet McGraw leaves Notre Dame
The legendary and outspoken women's basketball coach is leaving the game on her own terms. Everyone wants to know, what's next?
Welcome back to All in the Game, y'all.
Earlier this week, I recapped the 2020 WNBA Draft from an ACC perspective and wrote about Jocelyn Willoughby. I also wrote about what's next for N.C. State's Aislinn Konig after she went undrafted.
To check out all of my women's basketball coverage from 2019-20, click here.
---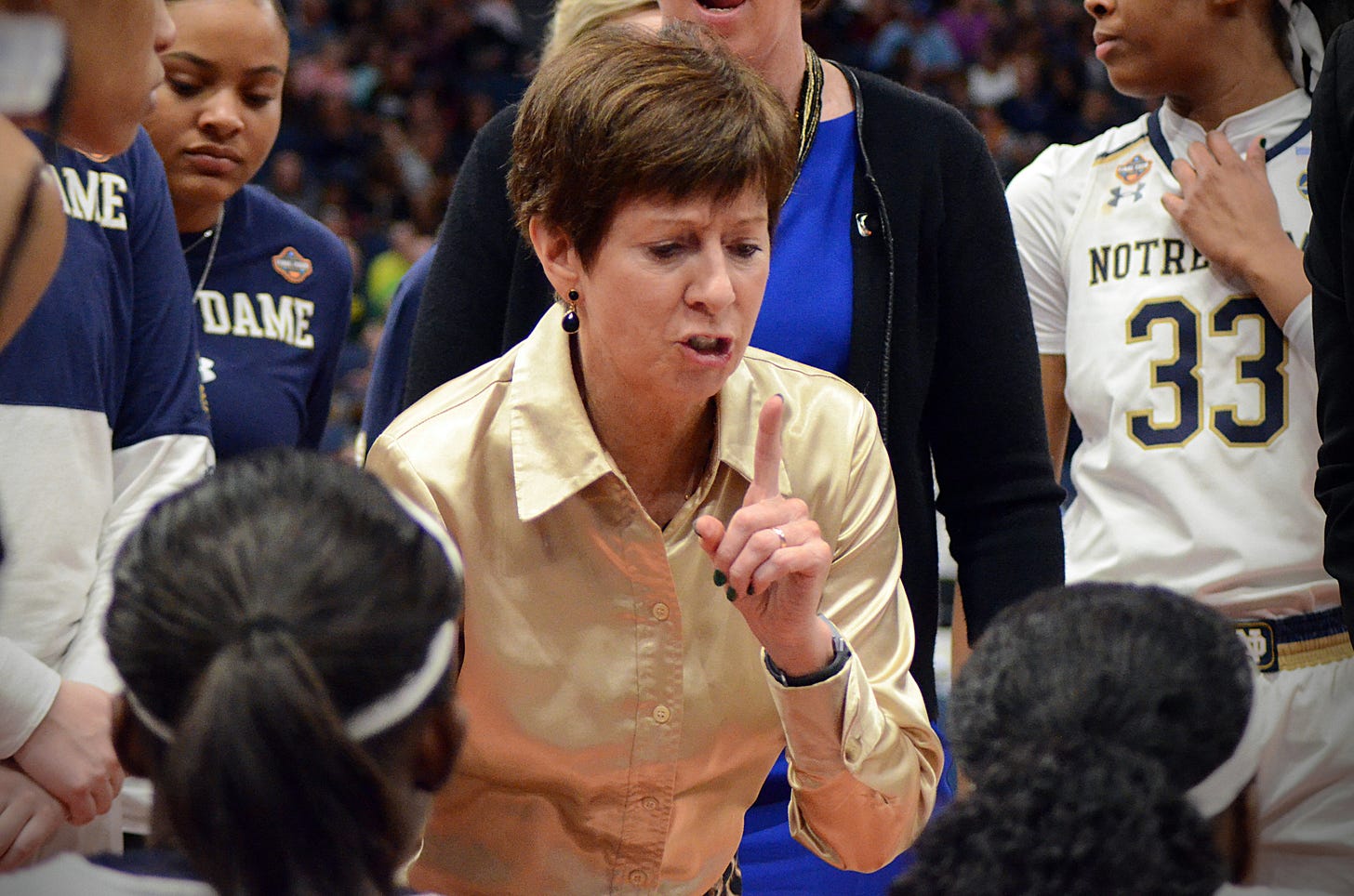 Muffet McGraw shocked the sports world Wednesday when she announced she would be stepping down immediately as the head coach of women's basketball at Notre Dame after 33 years on the job.
About 18 minutes after McGraw's retirement was revealed, the Irish moved quickly, naming former player and Memphis Grizzlies assistant Niele Ivey as her successor.
McGraw is a legend in coaching and an important voice for women's basketball. Not having her on the sidelines seems like a huge loss, but the 64-year-old indicated during a virtual press conference that she's not going to completely vanish from the public eye, saying she planned to be involved with advocacy for women's equality, community work and teaching.
"Anything that helps women, I'm going to be there," McGraw said.
But women's basketball won't quite be the same without McGraw in it, at least in the short term. In more than three decades in South Bend, Indiana, she built the Irish into a squad that is typically always in contention to make the Final Four. McGraw wraps up her career with 936 victories (which is sixth all-time), two NCAA Championships (2001 and 2018) and nine Final Four berths. She was a 2017 inductee into the Naismith Basketball Hall of Fame.
McGraw coached Notre Dame through four different conferences: the North Star, the Midwestern Collegiate, the Big East and the ACC. While her time in the ACC was shorter than her Big East stint, she dominated the conference while she was in it and helped elevate ACC women's basketball over the past decade. In seven ACC seasons, she holds the best winning percentage by a head coach in conference games (.868) and led the Irish to five ACC tournament championships.
---
In my brief time covering women's basketball, I didn't have many interactions with McGraw, but in those few moments I found her to be honest, gracious with her time and someone who never shied away from answering a question. She never backed down from her opinions. She always had confidence in what she was saying. And if you were coming at McGraw with questions, you better have had done your homework.
To say there weren't many writers at the 2019 ACC Women's Basketball Media Day in Charlotte would be a massive understatement. I think there were five of us, maybe. It was a day mostly for TV and for the NCAA and ACC's social channels. Still, if we wanted to talk to someone, all we had to do was walk up and ask.
McGraw chatted with another reporter and I for about 15 minutes that day in October 2019. I didn't get to use all of her quotes in a preview I did for High Post Hoops or work I did for NCAA.com, so I'll post them here now:
On moving on from her five starters from the 2018-19 season: "I don't think you ever appreciate what you have until you've lost it, and I appreciate my team from last year so much more now because during that time, you don't appreciate the journey. You don't enjoy every moment. You're always waiting to see, 'Are we going to get to the final? How's it going to end up?' To lose 10,000 points, that's a lot to lose."
On if she expected Jackie Young to leave school early: "No, we didn't. And we scheduled based on her not leaving early. So, that was huge to lose her."
On her 2019-20 team: "We have eight freshmen basically, because everybody is new. Nobody played a lot last year. We return four points per-game. We're going to have a different approach defensively. We're going to have a different mindset. We're going to have a team where you can't just guard one person, because we're still not sure who is going to be our go-to player… (The national championship loss) is not as personal to them. That was painful, for a long time – and still is, for me – but for them, I think they're looking at a fresh start."
On the ACC increasing the number of conference games: "It's really disappointing. Coaches were unanimously in favor of keeping 16 (conference games). With 16 games, we were No. 1 RPI in the country four out of the last five years, we've had a great run in the NCAA tournament and the Final Four; we've had three different teams in the Final Four over the last six years. For us to change and now go to 18 games, I think it's going to change the way people schedule non-conference, which may not be as good. Our RPI may suffer for it. You're playing more games, you're going to have less byes. We're disappointed… It's going to make it tougher."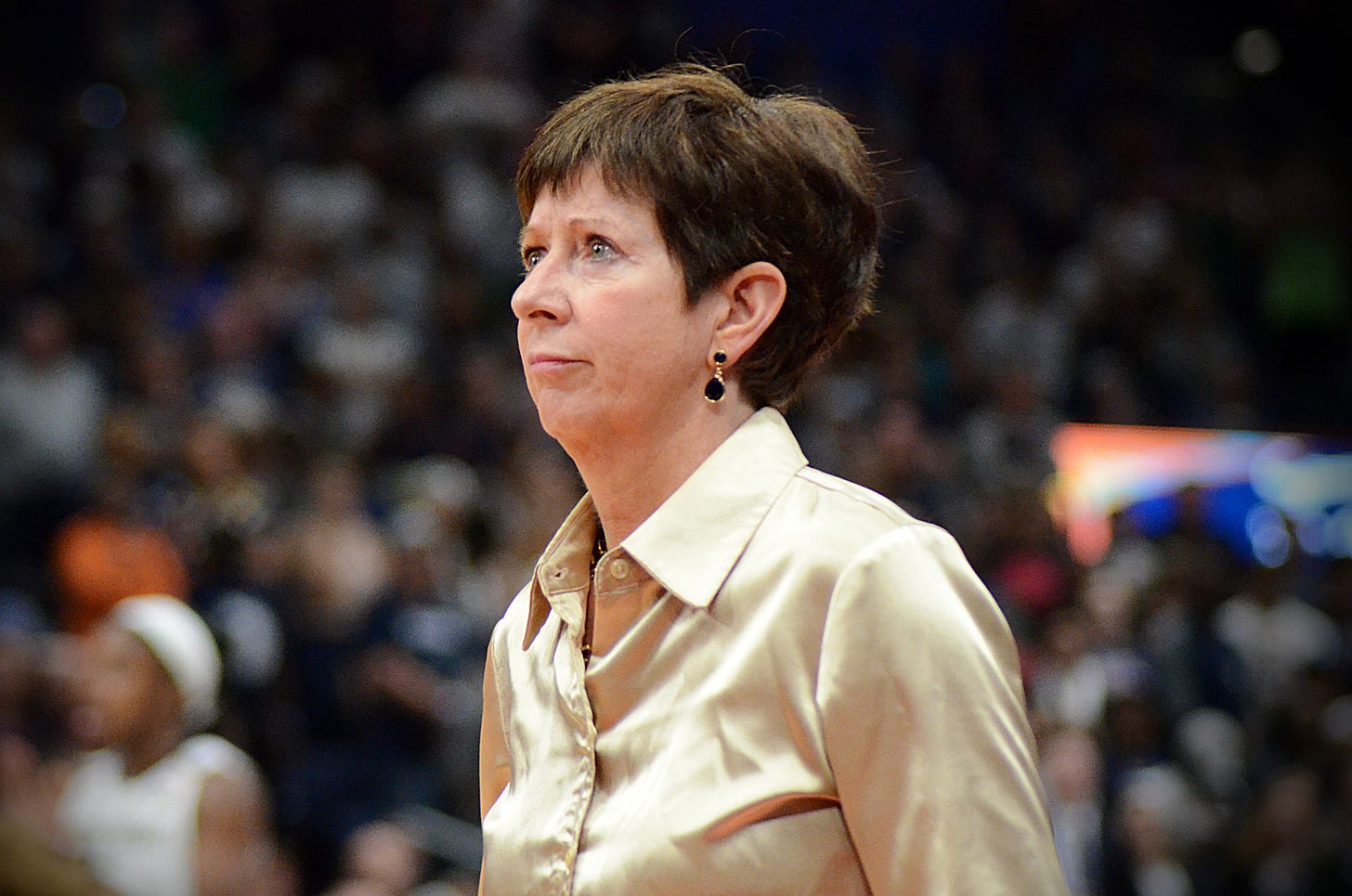 ---
The 2019-20 season proved to be a difficult one for McGraw and the Irish, as they were set to miss the NCAA tournament for the first time since 1995, finishing with a 13-18 record and a disappointing first-round ACC tournament loss to Pitt. It's unfortunate that was McGraw's last game, but that's basketball. You win some, you lose some. We were just so accustomed to McGraw winning much more often than she lost.
McGraw hadn't decided that day in Greensboro that the loss to Pitt would be her final game, but staying at home during the coronavirus pandemic gave her time to reflect.
"This was a great opportunity for me to sit back and see, what's life without basketball going to look like? And I thought it looked really good," she said. "I felt really good about the solitude."
While it might not seem so by looking at Notre Dame's record this past season, McGraw is leaving the team in a decent shape for Ivey, who spent 17 years at Notre Dame as a player and assistant coach. The Irish will return three players next season in Sam Brunelle, Katlyn Gilbert and Anaya Peoples who were on the All-ACC Freshman Team. And McGraw secured a strong recruiting class, landing four 2020 prospects who are ranked in the top 45 of ESPN's HoopGurlz rankings.
"I think the program is right back where it should be and poised to make another run to the Final Four," McGraw said. "So, I feel like I'm leaving the program in a good place. And also, a chance for me to do something else."
College basketball is going to miss McGraw, but we're all anxious to see what that "something else" is for her.
Reaction
More on Muffet McGraw
Elsewhere in women's basketball
Pitt picked up another transfer. This time, it's Destin Strother from Marquette.

Quentin Hillsman has an opening on his staff at Syracuse after DeLisha Milton-Jones left for Old Dominion, but Hillsman isn't rushing to fill the job. Syracuse.com explains why.

Had McGraw not retired, this might've been Wednesday's top women's basketball story: Liz Cambage inked a new deal with the Las Vegas Aces. Ben Dull has more for High Post Hoops.
Stay safe. Stay inside. Y'all be good.
---
(Subscribe below. When you hit the subscribe button, you'll notice there's options for free, monthly and yearly subscriptions. For now, all of these posts are going to be free and visible to everyone. But if you want to throw me $5 a month, I won't stop you.)
---
"It ain't like that. See, the king stay the king. Aight?"
---
Mitchell Northam is an award-winning journalist based in North Carolina. He grew up on the Eastern Shore of Maryland and is a graduate of Salisbury University. His work has been featured at the Atlanta Journal-Constitution, the Orlando Sentinel, SB Nation, NCAA.com, the Delmarva Daily Times, Sports Illustrated, Pittsburgh Sports Now, FanSided and elsewhere. He is a member of APSE, NWSLMA and USBWA. He's on Twitter 

@primetimeMitch

. More of his work can be found at 

MuckRack

.