She didn't get drafted, but N.C. State's Aislinn Konig is still working toward the WNBA
The 2020 ACC tournament MVP was disappointed Friday night, but remains determined.
Welcome back to All in the Game, y'all.
Earlier this week, I recapped the 2020 WNBA Draft from an ACC perspective and wrote about Jocelyn Willoughby and how she might fit in with the New York Liberty.
To check out all of my women's basketball coverage from 2019-20, click here.
Now, here's more on a top ACC player who didn't hear her name called on draft night.
---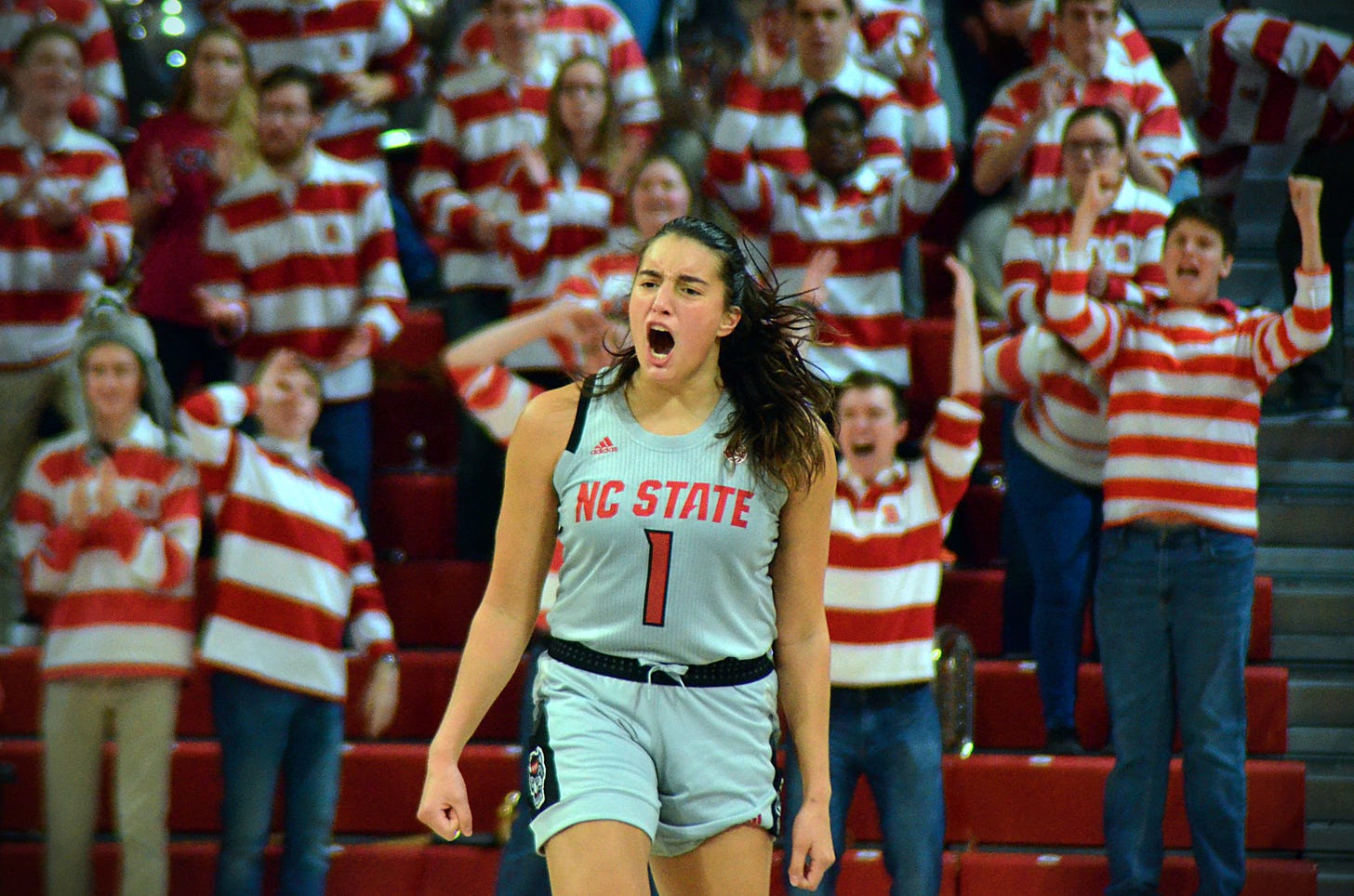 Aislinn Konig has been busy.
Since the 2019-20 women's college basketball season ended abruptly with the NCAA tournament being canceled due to the coronavirus, Konig had been working toward a goal she had since she was a little girl. The N.C. State guard wanted to be a WNBA Draft pick.
With most gyms locked up, with no chance to showcase her talent to scouts, Konig spent much of her time trying to get in the best shape of her life, running outside, bodyweight training and trying to play on any outdoor court she could find. And in her spare time, she launched a website, and assisted her fellow seniors and Wolfpack coaches in designing their ACC Championship rings over a Zoom call.
Konig was confident heading into the draft, but last Friday night, 36 picks came and went, and the 5-foot-10 native of Surrey, B.C. was not one of the them. She was devastated, but not broken.
"I was very disappointed with not hearing my name on Friday. That was something I had been working toward and dreaming about for the last 10 years. So, definitely… Some strong emotions over that," Konig told reporters Tuesday morning during a Zoom call. "There was definitely always that possibility that I didn't get drafted. And there's certain teams that I could have filled their need. So, by the time that those teams have used all of their picks, it started to seem like it probably wasn't going to happen."
When sports will resume in the U.S. and around the world remains uncertain. It would be foolish to Sharpie in the day the 2020 WNBA season will begin.
So, Konig isn't waiting around for some big announcement that training camp is open. She's going to keep working on her game and improving her skills. She's more than willing to go overseas to do so. And one day, she hopes, a WNBA team will come calling.
"I'm not going to stop, you know? That isn't just going to end for me," Konig said. "That's a dream that I can continue to pursue."
The past few days have been difficult for Konig though. She saw her friends and rivals alike get their names called on draft night. Those players know what's coming next for them. With the coronavirus pandemic hanging over the planet and no offer in-hand, Konig does not.
"It is a lot of anxiety," Konig said. "I have friends and teammates who are getting jobs who are into their next steps of their lives with a plan. And I've had a plan my entire life up until this point. So, there's a lot of anxiety, but I kind of deal with that by over preparing. I work out as much as I possibly can I make sure that I keep busy.
"I definitely need to get a job, which is terrifying because I've been an athlete my entire life. I've never actually worked a job."
Luckily for Konig, she's a damn good basketball player. It's unlikely she'll be shuffling papers in an office or working some other nine-to-five gig anytime soon. When leagues around the world resume play, Konig will be on a court somewhere. Whether it's in the U.S. or Canada or Israel or Austria or China remains to be seen. But someone will sign Konig.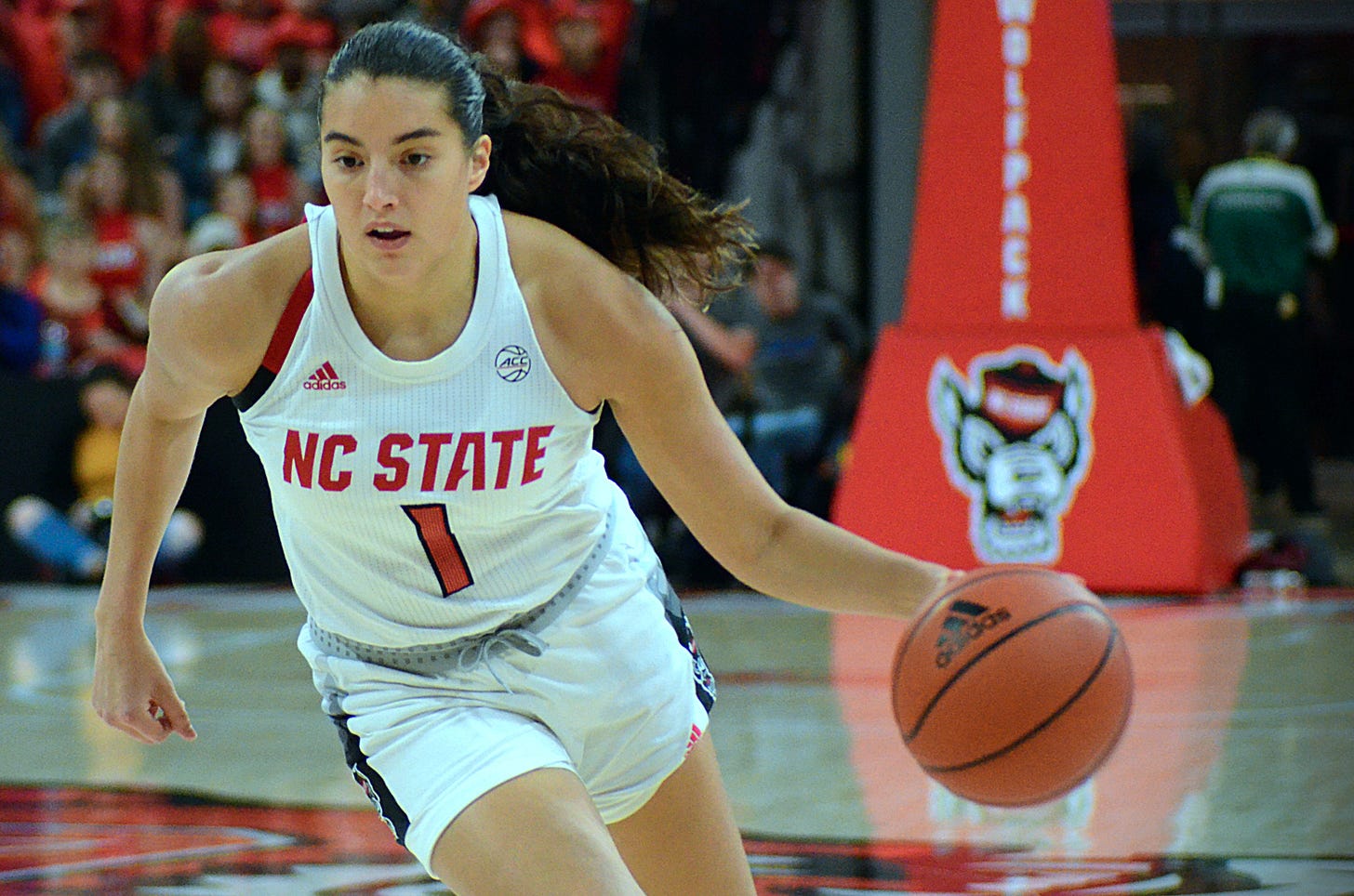 A five-star recruit and the British Columbia Player of the Year in 2015 and 2016, Konig played significant minutes each year she was at N.C. State and became a regular starter as a sophomore. Her senior campaign was her best yet, as she averaged 33.4 minutes, 11.1 points, 3.5 assists and 2.7 rebounds per-game while shooting 35.7 percent from three-point range and playing stifling defense. While Elissa Cunane deservedly grabbed all the spotlight for the Wolfpack, Konig was the engine that made N.C. State go as their primary ball-handler, creator and top perimeter defender. She led the ACC in assist-turnover ratio (+2.27) in league games and ended her career as the second-best three-point shooter to ever come through Raleigh.
Konig had a few big performances on the road as a senior: 25 points at Texas, 22 points at Hawaii, 24 points at North Carolina, 23 points at Clemson. But she was perhaps at her greatest when it mattered most. She was named MVP of the ACC Tournament after she shot 40 percent from three-point range over three games in Greensboro and tallied 18 points in the title game victory over Florida State. It was N.C. State's first ACC Championship since 1991 and Konig was the hero, powering the Wolfpack on a 13-3 run to end the game.
In hindsight, N.C. State was one of the few women's basketball teams in the country that ended their season with a win. They'll never know what they could've done in the NCAA tournament (N.C. State was seeking its first Final Four berth since 1998), but the players did get some sort of closure by having their final game end by lifting a trophy.
"When it happened, it kind of felt like a hazy dream because once you win, everything happens so fast," Konig said. "Going out on a win like that is not something to be ashamed of… I was thinking about it and — short of winning the NCAA championship — that's the only way we end our season on a win. And I think it's really special for the fans, especially who have been waiting for this.
"Having that kind of closing moment — now knowing that that would be our last game — is very special."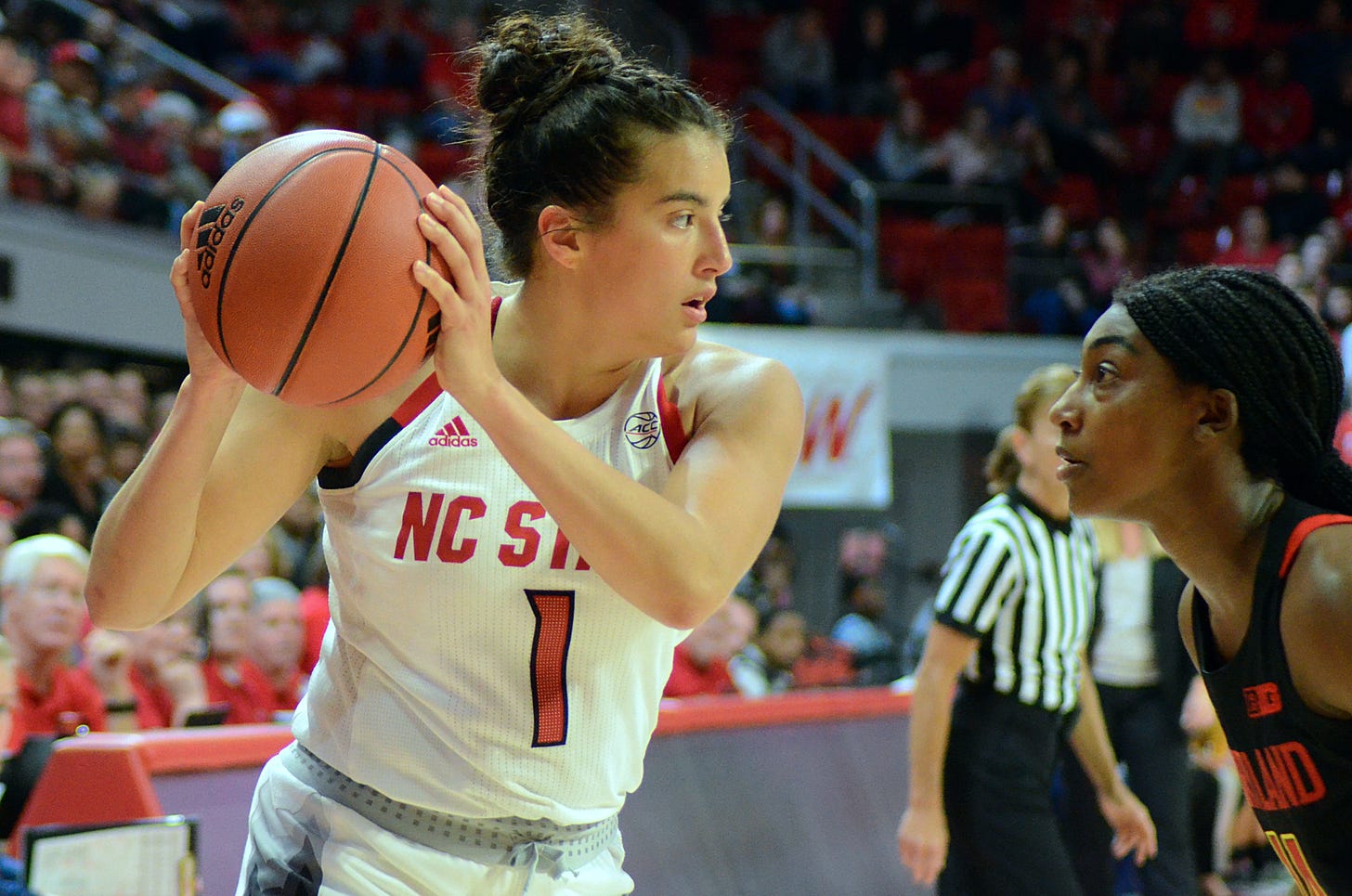 While it felt good ending her college career with a historic victory in Greensboro, Konig did concede that playing in the NCAA tournament might have boosted her draft stock. Still, she didn't want to get into the "shoulda-woulda-coulda" of her collegiate career, joking that if Cunane "wasn't such a stud" maybe Konig would've had the ball more and had the opportunity to create more highlights to catch the attention of scouts.
"Ultimately, I'm very proud of my career at N.C. State and when we did this past year," Konig said.
But Konig might have not ended her college career on the best of terms with her head coach. For the last question of the Zoom call with reporters, Konig was asked what seemed like a routine question: How much contact did she have with Wolfpack head coach Wes Moore leading up to and coming out of the draft?
The question was essentially giving Konig the opportunity here to heap some praise on Moore. She declined to do so, for whatever reason. Her response was awkward.
"That's not a question that I think I should answer," Konig said. "I mean, it's complicated. You know, we did a lot of good things at N.C. State together and I'm happy with what we accomplished. That's just like not a question I have an answer for that is worth saying."
Maybe it's nothing. But if there is a riff, N.C. State fans will hope it can be resolved by whenever it's time to properly honor the 2020 ACC Champions. Celebrating that accomplishment without Konig would be akin to excluding Luke Skywalker from the medal ceremony on Yavin IV.
In the meantime, Konig will be grinding while waiting for travel and leagues to open back up. She's signed with Eric Wiesel of Wiesel Sports, an agency that represents many talented WNBA and overseas players, including Kaila Charles, Crystal Dangerfield, Natasha Howard, Emma Meesseman and Azura Stevens.
"When (Wiesel) gathers a pool of good offers and opportunities, we're going to discuss what the next steps are," Konig said. "I'll always be prepared for an opportunity from the WNBA, whether that's through an injury to one of the players or somebody being cut from a team and they need to fill a spot. Just being prepared physically, ready to go whenever."
---
Stay safe. Stay inside. Y'all be good.
---
(Subscribe below. When you hit the subscribe button, you'll notice there's options for free, monthly and yearly subscriptions. For now, all of these posts are going to be free and visible to everyone. But if you want to throw me $5 a month, I won't stop you.)
---
"How you expect to run with the wolves come night, when you spend all day sparring with the puppies?"
---
Mitchell Northam is an award-winning journalist based in North Carolina. He grew up on the Eastern Shore of Maryland and is a graduate of Salisbury University. His work has been featured at the Atlanta Journal-Constitution, the Orlando Sentinel, SB Nation, NCAA.com, the Delmarva Daily Times, Sports Illustrated, Pittsburgh Sports Now, FanSided and elsewhere. He is a member of APSE, NWSLMA and USBWA. He's on Twitter 

@primetimeMitch

. More of his work can be found at 

MuckRack

.