Here's what the experts think about ACC prospects in the WNBA Draft
Expect to see the run on ACC players begin in the late first or early second round. Also here: stats, notes and things to read.
Welcome back to All in the Game, y'all.
Earlier this week, I wrote about Azana Baines after news broke that the rising sophomore was transferring away from Duke's women's basketball team
To check out all of my women's basketball coverage from 2019-20, click here.
---
The WNBA Draft is this Friday at 7 p.m. EST on ESPN. Earlier this week, Rebecca Lobo, Holly Rowe and a handful of the league's head coaches hopped on a conference call with reporters to preview the draft and talk about the pool of talented players. While there were several questions and comments about Sabrina Ionescu, Chennedy Carter and Bella Alarie, a few ACC players were discussed too.
Here's what the experts had to say about those players, what their talents are, what their potential is and where they might land…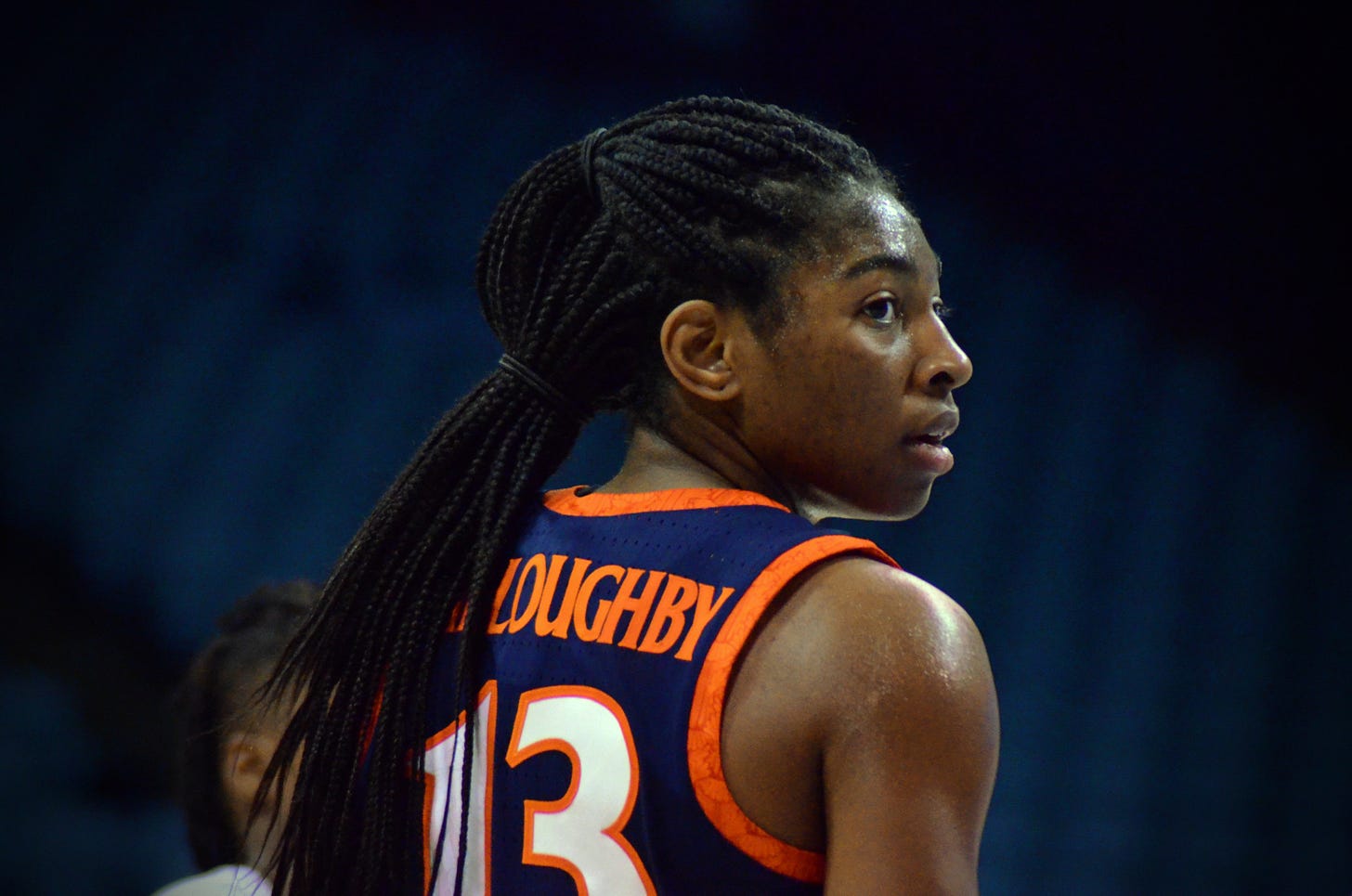 Jocelyn Willoughby, Virginia
Rebecca Lobo: "Jocelyn will get drafted. The question is just going to be: where? Will she be an early- to mid-second-round pick potentially? A lot of the people I have spoken to have talked about Jocelyn… I think definitely her game translates. Her body translates. She can score at a high clip and high efficiency from the three-point line. She can take it to the basket. She's got a good frame. She's a good finisher. She gets to the free throw line. A lot of potential. And that's what a lot of coaches -- that's in a lot of ways what the draft is. It's not only what they're going to be right away, but with seasoning, playing overseas, more time with your WNBA team, what can you become? Do you have those tools? And she is a player who has those tools."
Kiah Gillespie, Florida State
Rebecca Lobo: "I think like early second round is the starting point for Kiah. And then it'll depend on what happens with other teams."
Holly Rowe: "She's about as delightful of a human being as you'd like to find. She is dedicated to working on her craft. She's had lots of GMs and coaches looking at her. At 6-2, she's got a great frame. She's committed to getting in even better shape, and with her skill set of being able to play inside and outside, she's an intriguing prospect. I think she is somebody that you could see making an impact in the WNBA."
Nicki Ekhomu, Florida State
Rebecca Lobo: "Ekhomu, I believe a knee issue might be her problem. With (FSU's) guards, we're looking later in the rounds."
Jazmine Jones, Louisville
Walt Hopkins, Liberty head coach: "Jaz has some high upside. She's athletic. She shoots the three at a high clip, doesn't shoot a ton of them, but really high-character person."
Jones, by the way, signed a contract earlier this week with Tarbes Gespe Bigorre, a team in France. According to Danielle Lerner of the Athletic, if Jones is drafted and the WNBA season happens, she'll head to France a week after WNBA games end.
Kylee Shook, Louisville
Walt Hopkins, Liberty head coach: "The research we've done, we've really been reviewing (Louisville) as extensively as we can. Both (Jones and Shook) look like they could be good fits, depending on going into a system that suits their strengths or not, which is obviously the case with anyone that gets drafted in a given year. But Kylee is a high-level defender, shoots the three, and like I said, both players are highly thought of by everyone we've talked to, so they both have potential."
Haley Gorecki, Duke
Sandy Brondello, Mercury head coach: "Look, obviously she's talented. I mean, she'll be picked, yeah, in the second or third round, and like I said, teams — we all prepare differently, but talented players, you hope they get a shot, and it's about coming into training camp and just proving their worth."
Some stats…
Jocelyn Willoughby of Virginia scored 29 percent of all her points last season from the free throw line where she shot 87 percent. That mark was in the top three percent of all of college basketball. (Her Hoop Stats)

Nicki Ekhomu ranked in the top four percent in the nation last season in assists per-game, assist-turnover ratio and assist rate. (Her Hoop Stats)

Beatrice Mompremier finished 33 percent of Miami's plays this past season. While at Miami, she notched 34 career double-doubles and 45 double-digit scoring games. She could be the highest ACC player selected on Friday. (Her Hoop Stats)

Wake Forest's Ivana Raca ranked in the top three of the ACC in points per-game (17.2), 20-point games (11) and field goals made (193) last season. With her and Gina Conti returning, the Demon Deacons should be in-line for a post-season appearance in 2021.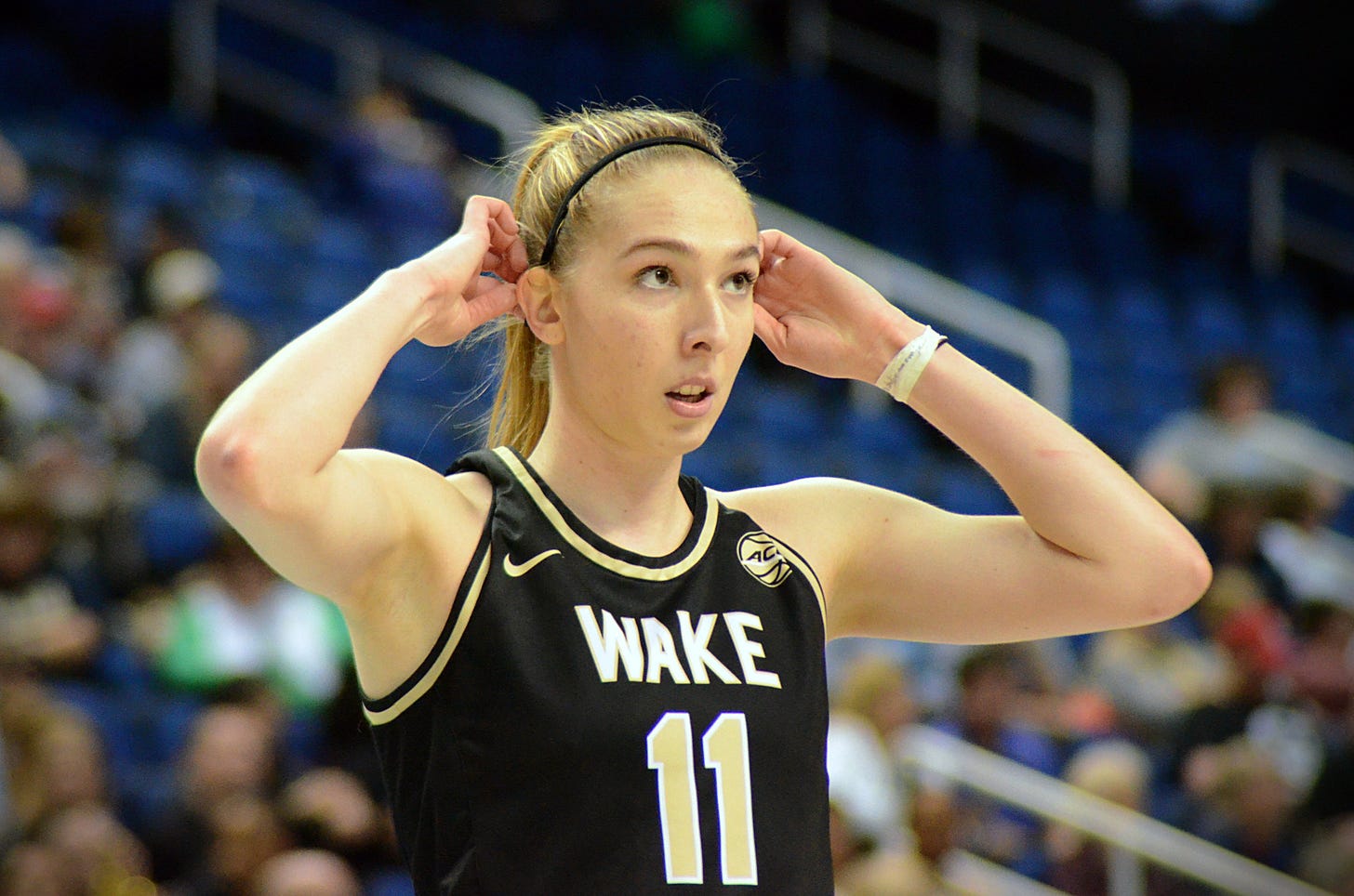 Elsewhere in women's basketball…
Also read…
Stay safe. Stay inside. Y'all be good.
---
(Subscribe below. When you hit the subscribe button, you'll notice there's options for free, monthly and yearly subscriptions. For now, all of these posts are going to be free and visible to everyone. But if you want to throw me $5 a month, I won't stop you.)
---
"You're only as good as your last envelope. You know that."
---
Mitchell Northam is an award-winning journalist based in North Carolina. He grew up on the Eastern Shore of Maryland and is a graduate of Salisbury University. His work has been featured at the Atlanta Journal-Constitution, the Orlando Sentinel, SB Nation, NCAA.com, the Delmarva Daily Times, Sports Illustrated, Pittsburgh Sports Now, FanSided and elsewhere. He is a member of APSE, NWSLMA and USBWA. He's on Twitter 

@primetimeMitch

. More of his work can be found at 

MuckRack

.