ACC women's basketball: Duke's Azana Baines enters the transfer portal
Duke loses another guard to the transfer portal. Reading recommendations included.
Welcome back to All in the Game, y'all.
Last week, I wrote about what's next for Virginia Tech, the WNBA potential for Duke's Leaonna Odom and I also put together a big ACC women's basketball notebook.
To check out all of my women's basketball coverage from 2019-20, click here.
Today, here's a bit more on some transfer news that broke last night, as well as some reading recommendations.
---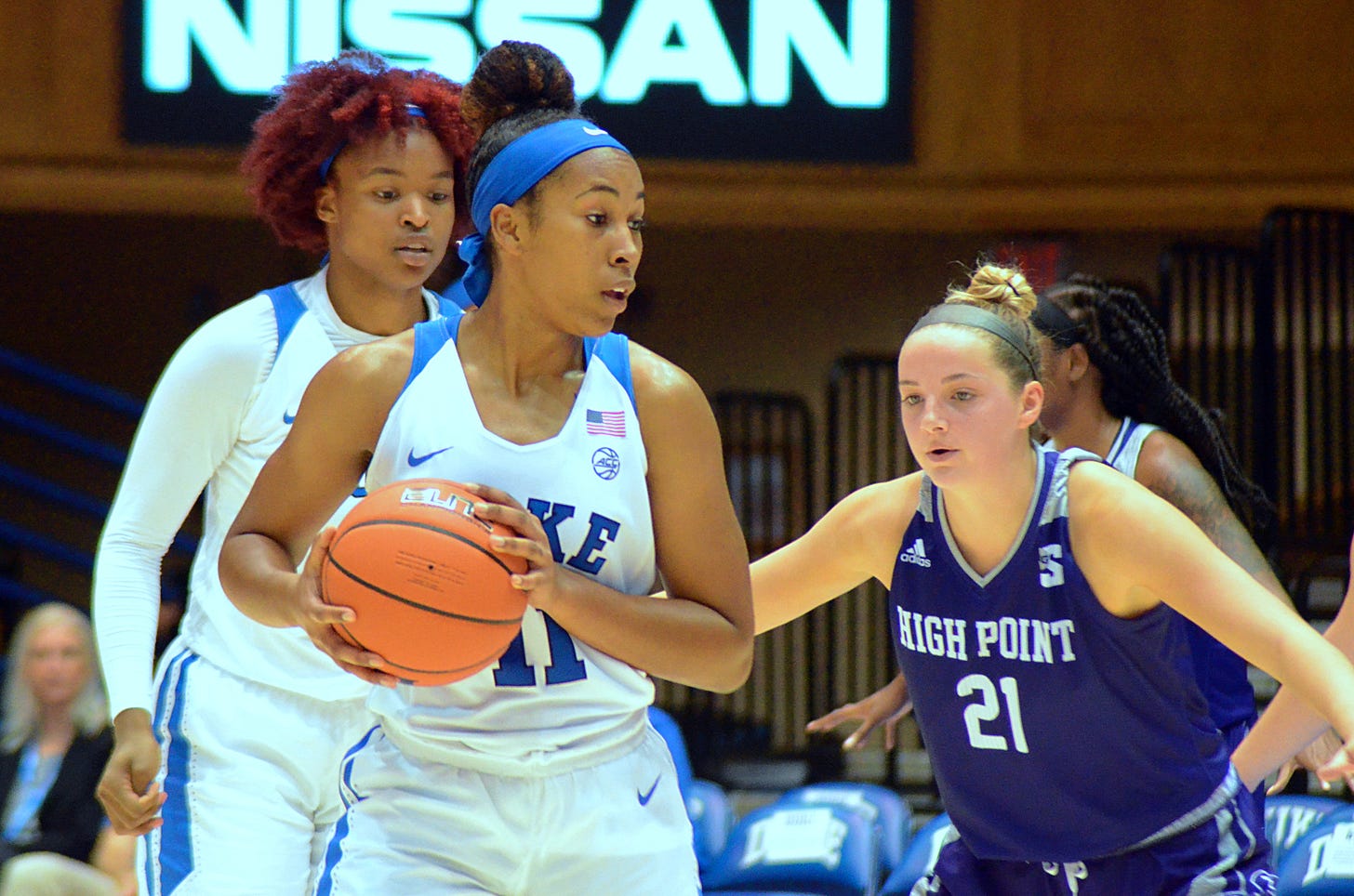 Another player is leaving the Duke Blue Devils, but this one isn't a seasoned grad transfer like Kyra Lambert.
Rising sophomore Azana Baines has entered the transfer portal, a source close to the situation said late Tuesday night. Baines will likely have to take a redshirt season wherever she lands.
A 6-foot-1 native of Blackwood, New Jersey, Baines was a valuable asset off the bench for Duke this past season, proving to be a versatile wing. She's listed as a guard, but her frame, length, toughness, bounce and skills allowed her to defend multiple positions and attack from various spots on the floor.
Baines earned four starts throughout the season and saw action in 29 games. One of those starts came on Jan. 5 at then-ranked No. 7 Louisville, where she turned in one of her best performances of the season, totaling 15 points, seven rebounds and an assist in 35 minutes of play. Baines had another solid road outing at then-ranked No. 6 Texas A&M on Nov. 10, tallying 12 points, five boards, an assist, a block and a steal.
At Duke, Baines showed the ability to handle the ball, to drive, to score inside and to knock down mid-range shots consistently. She's a lefty, but can regularly score with her right hand as well, which makes her an effective scorer at the rim. Baines was also decent on the glass for her position, as she had at least two offensive rebounds in nine games and averaged 3.2 rebounds per-contest.
After Baines notched 15 points in Duke's ACC-opening win over Boston College on Dec. 8, Blue Devils' head coach Joanne P. McCallie was high on her potential.
"(Baines has) got that 'it' factor. She really wants to be a scorer, and she really wants to play, and it's something that you really can't teach," McCallie said. "Someone's got to come with that, and she's very competitive, and she keeps a game face, a lot like Haley (Gorecki), and a lot like (Leaonna Odom), in terms of going after it. We want her to develop. We want her to get really good, and confident."
One area Baines could improve on is her three-point shooting, knocking down just five of 21 attempts from behind the arc this past season as a freshman for a 17.2 percent clip. Baines' playing time dwindled near the end of the season, as she played less than 10 minutes in nine of the Blue Devils final 13 games.
According to ESPN, Baines was a four-star recruit in the class of 2019 and chose Duke over fellow ACC schools Georgia Tech, Miami, Virginia Tech and North Carolina.
With Baines and Lambert transferring, and Gorecki and Odom heading to the WNBA, Duke will return just three of their top seven scorers in Miela Goodchild, Mikayla Boykin and Jade Williams. Leading shot-blocker Onome Akinbode-James will also return.
The good news for Duke on Tuesday was that they did pick up a 2021 commitment from Lauren Walker of Marietta, Georgia.
---
Elsewhere in women's basketball…
Also read…
Katherine Fominykh at the Capital Gazette has everything you need to know about the Women's Professional Lacrosse League canceling its season.

At ESPN, Ryan McGee has an informed and well-written piece on the fallout from Kyle Larson using a racial slur during a virtual NASCAR race: "Larson's future shouldn't be the immediate concern. Just like with a crash on a Sunday, there's a lot more damage to fix here than can be seen from the grandstand."

Bryan Curtis at the Ringer, on the Mavening of Sports Illustrated and what lies ahead for the damaged brand: "The last six months have shown that as craven as they are, they will always be more buffoonish."
Stay safe. Stay inside. Y'all be good.
---
(Subscribe below. When you hit the subscribe button, you'll notice there's options for free, monthly and yearly subscriptions. For now, all of these posts are going to be free and visible to everyone. But if you want to throw me $5 a month, I won't stop you.)
---
"CCNY vs. Kentucky; 1951. Nobody beat the spread. I bought myself a black Fleetwood."
---
Mitchell Northam is an award-winning journalist based in North Carolina. He grew up on the Eastern Shore of Maryland and is a graduate of Salisbury University. His work has been featured at the Atlanta Journal-Constitution, the Orlando Sentinel, SB Nation, NCAA.com, the Delmarva Daily Times, Sports Illustrated, Pittsburgh Sports Now, FanSided and elsewhere. He is a member of APSE, NWSLMA and USBWA. He's on Twitter 

@primetimeMitch

. More of his work can be found at 

MuckRack

.