Kara Lawson lands her first Duke commits. Notes and links from around the ACC.
Lawson recently added players to her 2020, 2021 and 2022 rosters at Duke. More links, notes and ramblings included.
Welcome back to All in the Game, y'all.
I've been a bit busy with work, wedding planning, traveling and research for my book, but I have fresh new notebook and links for y'all.
As always, please subscribe and share with your friends.
---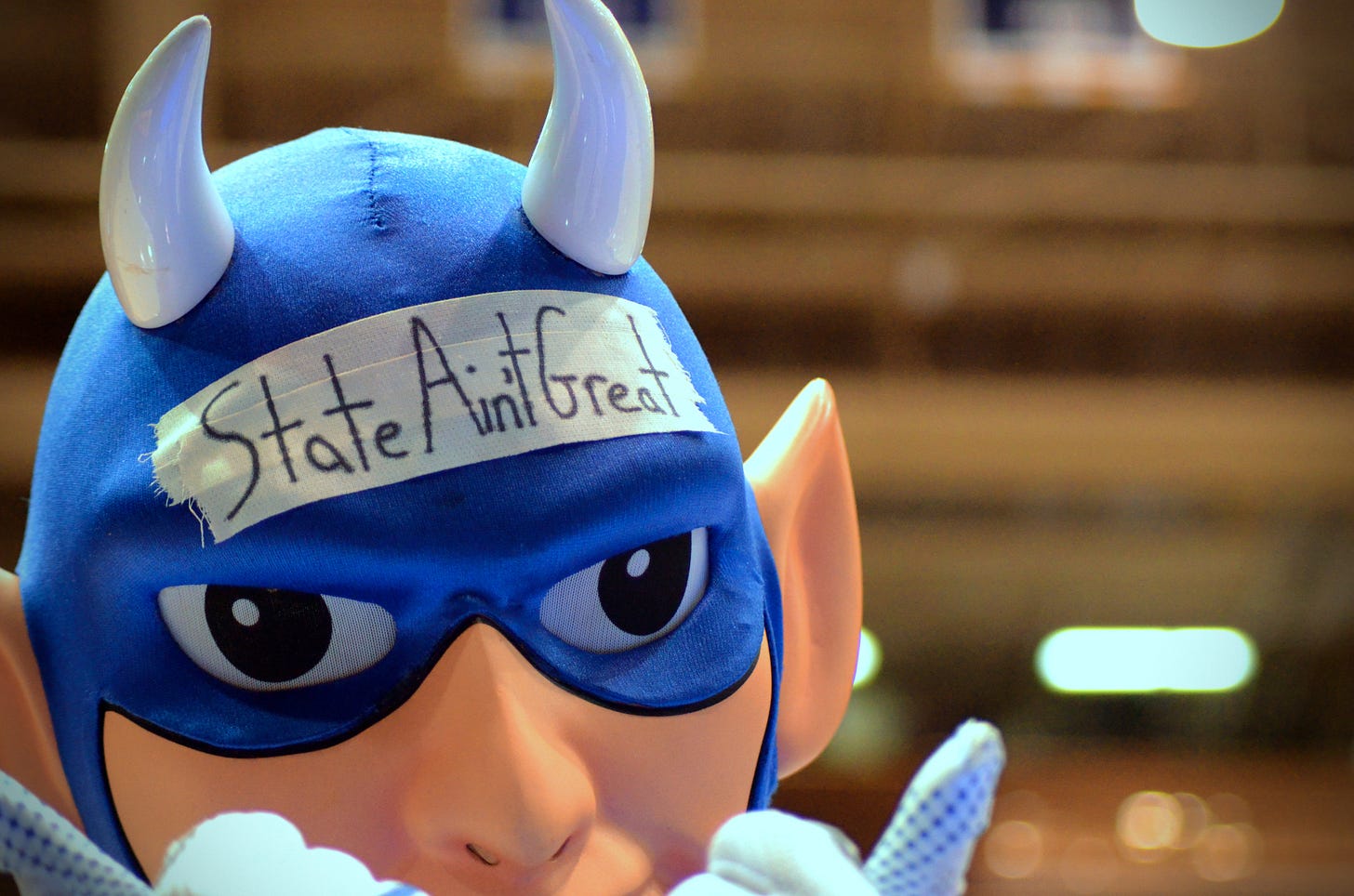 The opening tip…
Kara Lawson has wasted no time in adding to her future rosters in Durham. She picked up two commits for Duke recently, with Emma Koabel (2022) and Lee Volker (2021) both verbally committing to the Blue Devils within the past week.
Both recruits are the first to commit to Duke in their respective classes.
Koabel is considered to be one of the top players in her class from Canada and has been heralded for her passing ability. A 5-foot-10 guard from Niagara Prep, she is Lawson's first 2022 recruit. Koabel is a native of Port Colborne, Ontario and played in the 2018 Junior NBA World Championships for Canada. At 15, she was invited to try out for Canada's U-17 national team.
On her Instagram, Koabel said that playing at Duke has been "a dream" of hers since she was young.
Volker is a three-star 2021 recruit from Purcellville, Virginia. A 5-foot-11 product from Paul VI, she also had offers from Villanova and a host of mid-majors, including Campbell, Appalachian State and George Washington. She was named to the Washington Post's All-Met Second Team this past season.
In addition to the two commitments, Duke gained a player for the upcoming 2020-21 season last week by adding Jiselle Havas as a walk-on.
Havas previously spent two seasons playing at Lafayette of the Patriot League. She averaged 2.2 points and 1.8 rebounds per-game there and was a decent three-point shooter off the bench. A native of Windermere, Florida, she was twice selected to the Patriot League Academic Honor Roll.
"Jiselle has impressed me during the preseason with her commitment to this program," Lawson said in a statement.  "She is someone that has fit in seamlessly with the rest of our team… Her skill, work ethic and attention to detail will help us be a better team."
Around the ACC
Spanning the South
Elsewhere in Women's Basketball
Also read…
Some stuff I've written recently
Stay safe. Y'all be good.
---
You can support All in the Game by subscribing. When you hit the subscribe button, you'll notice there's options for free, monthly and yearly subscriptions. For now, all of these posts are going to be free and visible to everyone. But if you want to throw me $5 a month, or $41 a year, I won't stop you. And I'll probably spend it on coffee.
---
"We ain't gotta dream no more, man. We got real shit."
---
Mitchell Northam is an award-winning journalist based in North Carolina. He grew up on the Eastern Shore of Maryland and is a graduate of Salisbury University. He is a digital producer at WUNC, and his work has also been featured at the Atlanta Journal-Constitution, the Orlando Sentinel, SB Nation, NCAA.com, the Delmarva Daily Times, Sports Illustrated, Pittsburgh Sports Now and elsewhere. He is a member of APSE, NWSLMA and USBWA. He's on Twitter 

@primetimeMitch

. More of his work can be found at 

MuckRack

.