ACC notes: UNC secures commitments from Teonni Key, Morasha Wiggins
Courtney Banghart now has three top 50 players from the 2021 class committed to the Tar Heels.
Welcome back to All in the Game, y'all.
To check out all of my women's basketball coverage from 2019-20, 

click here.
---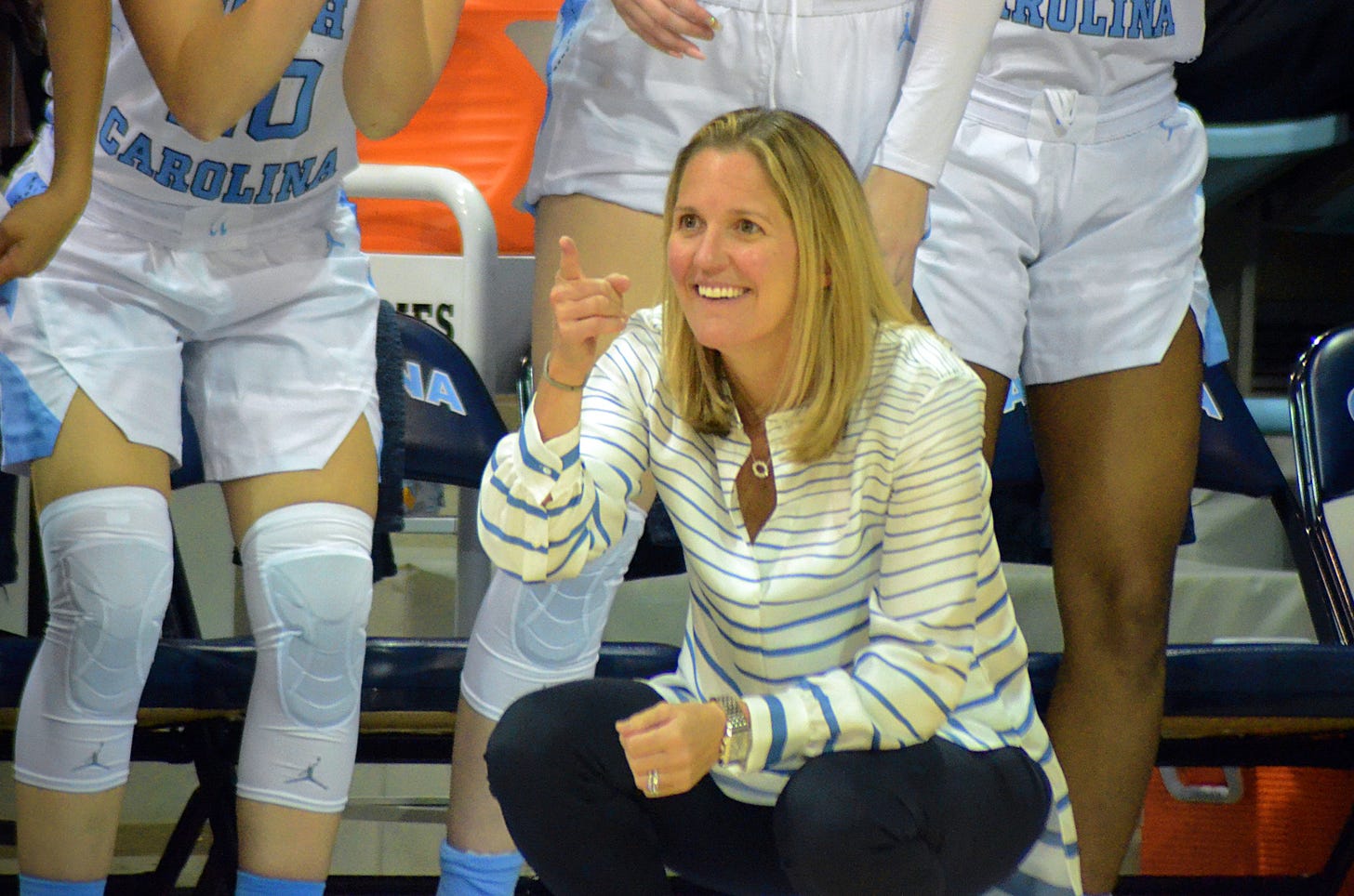 In her first full offseason as head coach of the North Carolina Tar Heels, Courtney Banghart is having a whole lot of success on the recruiting trail.
Within the past two weeks, the Tar Heels have secured verbal commitments from a pair of five-star 2021 prospects. One resides just down the road from Chapel Hill in Cary's Teonni Key, while the other — Morasha Wiggins — comes from way up in Michigan. Combined with Destiny Adams, a 6-foot-3 forward from New Jersey, Banghart has now secured three commitments from the top 50 players in the 2021 class. The Tar Heels lead the ACC in 2021 top 50 commits (Notre Dame and N.C. State each have two).
Key, a 6-foot-3 wing ranked as the 22nd best player in the class by ESPN, also had offers from UConn, Notre Dame, N.C. State, South Carolina, Maryland, Auburn and Kentucky. ESPN calls her a "hybrid-four" who is "best off the dribble," "active on the glass," and "creates mismatches."
Speaking to the Daily Tar Heel about committing to UNC, Key said: "It was the coaching staff, their vision for the future and what they have planned. The way that, in only a year, you've seen the vision change and the program change in a good direction. And UNC — as a school — is just a great place as well."
Wiggins is a 6-foot guard who lands at the No. 50 spot for the 2021 class in ESPN's rankings. She also had offers from USC, Georgia Tech, Clemson, Kentucky, Ohio State and Michigan State. ESPN calls her an "athletic combo guard" who can manufacture her own shot, rebound and attack in transition.
Banghart's tenure at UNC started off well last season, beginning the season with an eight-game winning streak. After beating Clemson on Feb. 2, the Heels had a 16-6 record and seemed bound for a top seed in the ACC tournament. But things fell apart. UNC lost its final seven regular season games and bowed out in the first round of the conference tournament in a 10-point loss to Wake Forest.
But things are looking up for the Tar Heels heading into the future. Going into this next season, they'll bring back All-ACC talent Janelle Bailey at center, promising forward Malu Tshitenge at the four, and they've brought in Illinois grad transfer Petra Holešínská to give them an outside threat. Much will be expected of incoming freshmen Anya Poole and Deja Kelly too, a pair of five-star talents.
Around the ACC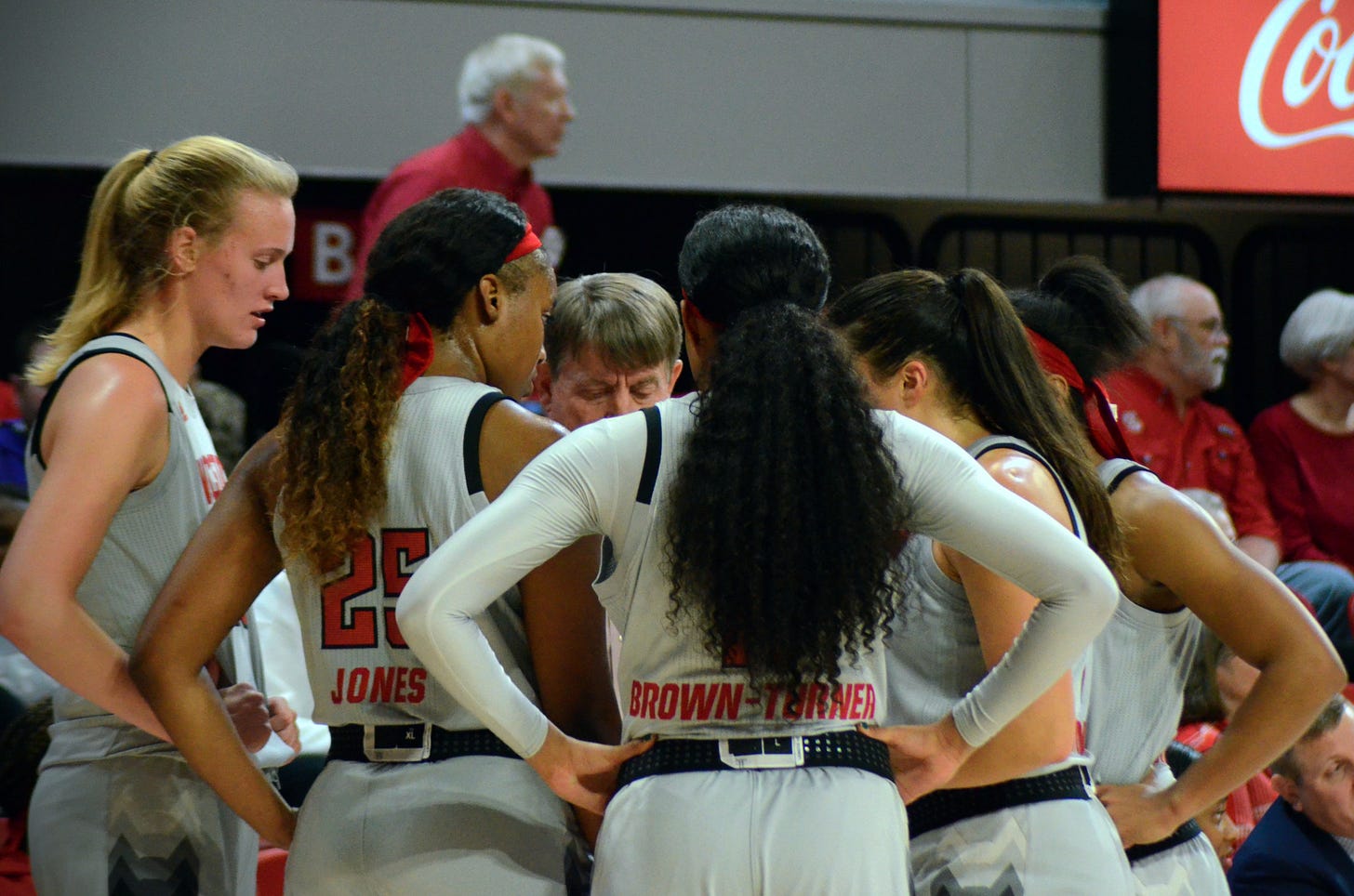 Elsewhere in women's basketball
Also read
Even if there had ever been a stitch of honor left in that flag after the Civil War was over, that was wrung out when hate groups chose the stars and bars as their go-to banner, under which they set fire to crosses, lynched black Americans, and held aloft as they stood at the doors of desegregated schools and screamed at innocent children, schoolbooks in hand, who did nothing more than be born.

There was a time when the swastika meant nothing, too. It first appeared in Asia 5,000 years ago. It was meant to signify the sun. But then someone came along and turned it into the symbol of one of the greatest evil forces that Earth has ever known.

You wouldn't fly that over Talladega, would you?
­
Some stuff I wrote
Stay safe. Y'all be good.
---
(Subscribe below. When you hit the subscribe button, you'll notice there's options for free, monthly and yearly subscriptions. For now, all of these posts are going to be free and visible to everyone. But if you want to throw me $5 a month, I won't stop you.)
---
"Just 'cause they're in the street doesn't mean they lack opinions."
---
Mitchell Northam is an award-winning journalist based in North Carolina. He grew up on the Eastern Shore of Maryland and is a graduate of Salisbury University. He is a digital producer at WUNC, and his work has also been featured at the Atlanta Journal-Constitution, the Orlando Sentinel, SB Nation, NCAA.com, the Delmarva Daily Times, Sports Illustrated, Pittsburgh Sports Now and elsewhere. He is a member of APSE, NWSLMA and USBWA. He's on Twitter 

@primetimeMitch

. More of his work can be found at 

MuckRack

.