The ACC women's basketball transfer tracker
Plus, Wes Moore gives his thoughts on Muffet McGraw retiring from Notre Dame. An ACC round-up, notes and more.
Welcome back to All in the Game, y'all.
To check out all of my women's basketball coverage from 2019-20, click here.
Also, I'm writing a book!
---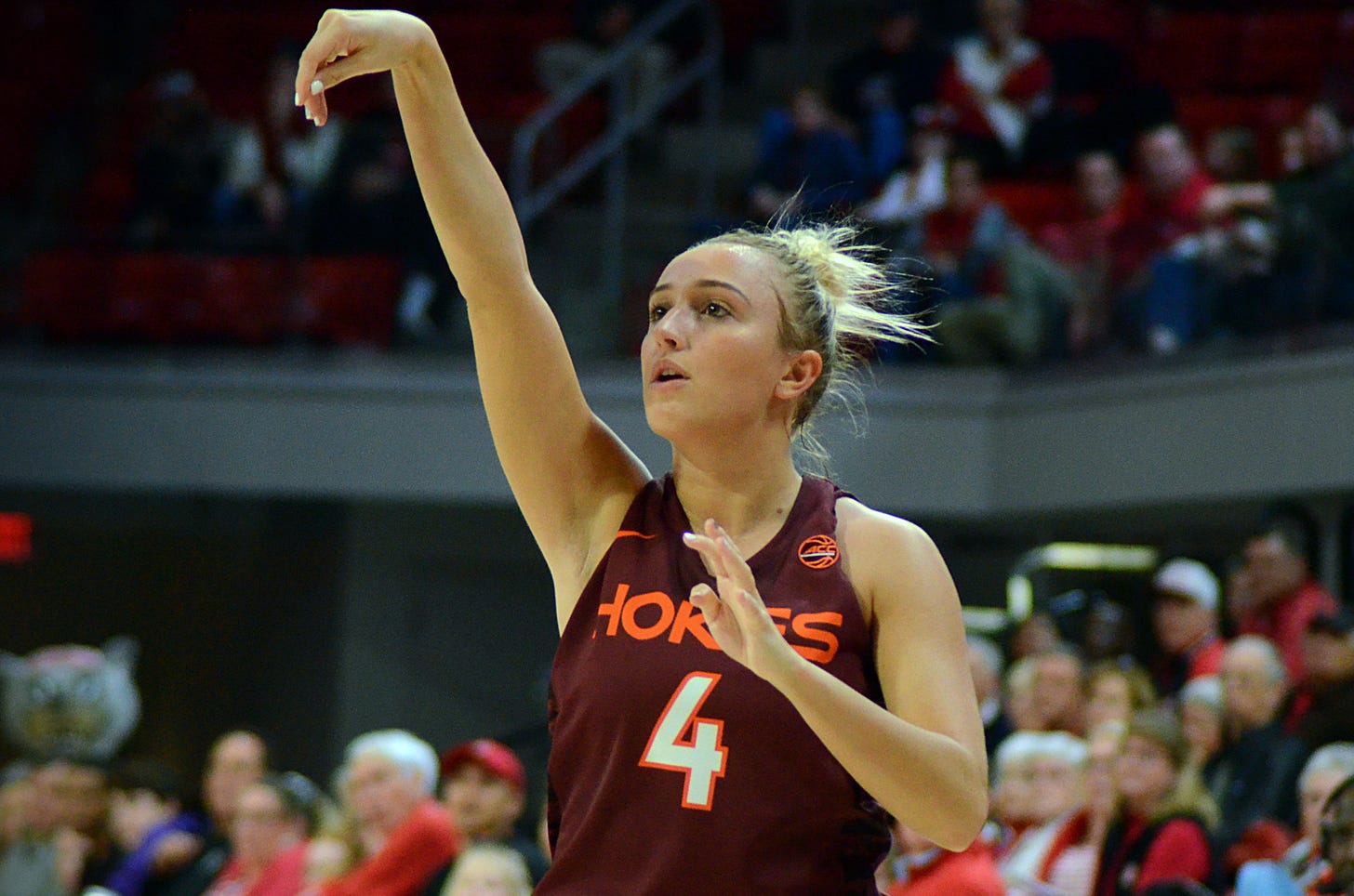 There's been a bit of change in ACC women's basketball this off-season with players coming and going from the conference, and even a few changing teams inside of it. I've written about some of them, but I thought it would be good to have all of the ACC transfers in one place. So, without further delay, here's the 2020-21 Transfer Tracker.
(If I missed any, feel free to shoot me a note through email or on Twitter)
**Currently, Boston College does not have any transfers coming in or leaving the program.
Clemson
Outgoing: Isis Lopes (UTEP)
Duke
Incoming: Sara Anastasieska (Cal)

Outgoing: Azana Baines (Virginia Tech), Kyra Lambert (Texas)
Florida State
Incoming: Tiana England (St. John's), Sara Bejedi (Arizona State), Erin Howard (Auburn)

Outgoing: London Clarkson (Virginia)
Georgia Tech
Incoming: Aixa Wone Aranaz (Ohio State)

Outgoing: Jasmine Carson (West Virginia), Anne Francoise Diouf (James Madison), Daijah Jefferson (George Mason), Chanin Scott (NC A&T)
Louisville
Incoming: Ahlanna Smith (Gulf Coast State College - NJCAA)

Outgoing: Lindsey Duvall (Northern Kentucky), Seygan Robins (UT Martin)
Miami
Incoming: Karla Erjavec (Wyoming)

Outgoing: Iggy Allen (FAU), Yasmeen Chang (Florida)
N.C. State
Incoming: Raina Perez (Cal State Fullerton)
North Carolina
Incoming: Petra Holesinska (Illinois), Ariel Young (Michigan), Stephanie Watts (USC)

Outgoing: Nia Daniel, Lexi Duckett (Wisconsin), Olivia Smith (?), Emily Sullivan (Florida), Naomi Van Nes (Mercer)
Notre Dame
Incoming: Dara Mabrey (Virginia Tech)
Pitt
Incoming: Destiny Strother (Marquette), Jayla Everett (New Mexico)

Outgoing: Kyla Nelson (FIU), Alayna Gribble (Saint Joseph's), Jasmine Whitney (George Washington), Jahsyni Knight (?)
Syracuse
Outgoing: Alisha Lewis (UCF)
Virginia
Incoming: London Clarkson (FSU), Emily Maupin (Liberty)

Outgoing: Yanni Hendley (Rhode Island)
Virginia Tech
Incoming: Da'Ja Green (Wofford), Azana Baines (Duke), D'Asia Gregg (Gulf Coast State College - NJCAA)

Outgoing: Dara Mabrey (Notre Dame), Trinity Baptiste (Arizona)
Wake Forest
Outgoing: Ellen Hahne (Albany)
Biggest Loss
Azana Baines seemed to be in-line for a starting job and a big role next season at Duke. She played in all 29 games as a freshman and averaged 4.8 points and 3.8 rebounds per-game, but showed in spurts that she could do much more; like scoring 15 points in games against Louisville and Boston College. With Kyra Lambert leaving, and Haley Gorecki and Leaonna Odom transferring, Baines looked like a lock to start. Now, she's created a hole in the Blue Devils' roster and given Virginia Tech fans something to look forward to in 2021-22.
Best Addition
While Raina Perez and Da'Ja Green might slide into starting roles with their new ACC squads, Petra Holesinska is going to have the chance to put up some big numbers for the Tar Heels. Last season, she put up 12.6 points per-game at Illinois, but had no real help on offense as no other player averaged double-digit scoring totals. Holesinska also shot 41 percent from beyond the arc last season and made 71 three's — a pair of marks that would have led UNC in Courtney Banghart's first season. With Janelle Bailey and Malu Tshitenge dominating inside, Holesinska should be able to move a bit more freely and pick her best spots along the perimeter.
(Note: if Jayla Everett was eligible right away for the Pitt Panthers, I might've picked her here. In 2018-19, she was the Mountain West Freshman of the Year, averaging 13.5 points, 3.7 assists, 3.5 rebounds and 1.2 steals per-game. Following an upset of Notre Dame in the ACC Tournament, keep an eye on what Lance White is building at Pitt.)
---
Wes Moore on Muffet McGraw
Two weeks ago, a handful of reporters hopped on a Zoom call with N.C. State head coach Wes Moore. I've written a bit about what he said here and here, but I didn't get to include Moore's answer to my question about what he thought of Muffet McGraw retiring and Niele Ivey taking over at Notre Dame.
Moore: "Coach McGraw, you know, she's a hall of famer. She had a major, major impact. I congratulated her on her career and on retirement. I still think she's going to be very vocal and very present out there on a lot of fronts. I don't think she's going away.
"Coach Ivey, you know, again, was there for I think 17 years maybe, or something to that effect — a long time as an assistant at Notre Dame. And, yeah, they're going to miss McGraw's experience. I mean, you just can't — 30 some years of coaching, you just don't learn that overnight when you move over into that hot seat. At the same time, I know the first week (Ivey) got the job, she landed two of the top 15 or so recruits in the country. So, if that's any indication, we're going to have our hands full still. It's still going to be a tough challenge when you play that team."
Around the ACC
Elsewhere in women's basketball
Also read
Some stuff I wrote
For SB Nation's "What if? Week" I took a look at Navy's 2016 football team and wondered, what if Will Worth and Toneo Gulley don't get hurt on the same play in the AAC Championship game? The Mids probably beat Army that season, at least.

I took some other leftover items from that Wes Moore interview and whipped it into a story for the Chatham News + Record about how the N.C. State head coach is staying on the recruiting trail during the coronavirus. Also, find out why he wants people to call Elissa Cunane "Big Frown" more often.
From the archives
After the final episode of "The Last Dance" premiered Sunday night, some folks wondered why there was no mention of Michael Jordan's two-season spell with the Washington Wizards. Back in 2015, when Peyton Manning and Kobe Bryant were ending their respective careers in disappointing fashion, some people lazily compared them to the Wizards' version of MJ. The thing is, Jordan was a lot better than people remember for the Wizards. In the 2001-02 season (MJ's first with the Wizards), their win total increased by 14 and he averaged nearly 23 points per-game at age 38. I wrote about MJ's time with the Wizards — and how it's misremembered — a few years back for SB Nation's Bullets Forever.
Stay safe. Stay inside. Y'all be good.
---
(Subscribe below. When you hit the subscribe button, you'll notice there's options for free, monthly and yearly subscriptions. For now, all of these posts are going to be free and visible to everyone. But if you want to throw me $5 a month, I won't stop you.)
---
"Be a little slow, be a little late. Just once. And how you ain't gon' never be slow? Never be late?"
---
Mitchell Northam is an award-winning journalist based in North Carolina. He grew up on the Eastern Shore of Maryland and is a graduate of Salisbury University. His work has been featured at the Atlanta Journal-Constitution, the Orlando Sentinel, SB Nation, NCAA.com, the Delmarva Daily Times, Sports Illustrated, Pittsburgh Sports Now, High Post Hoops and elsewhere. He is a member of APSE, NWSLMA and USBWA. He's on Twitter 

@primetimeMitch

. More of his work can be found at 

MuckRack

.