Catching up with N.C. State head coach Wes Moore
Moore was somewhere in the middle of Texas, dishing on this past season, Ace Konig, recruiting and more.
Welcome back to All in the Game, y'all.
Last week, I talked to new Navy head coach Tim Taylor about his journey to getting his first head coaching gig in Division I women's basketball.
To check out all of my women's basketball coverage from 2019-20, click here.
Also, I'm writing a book!
---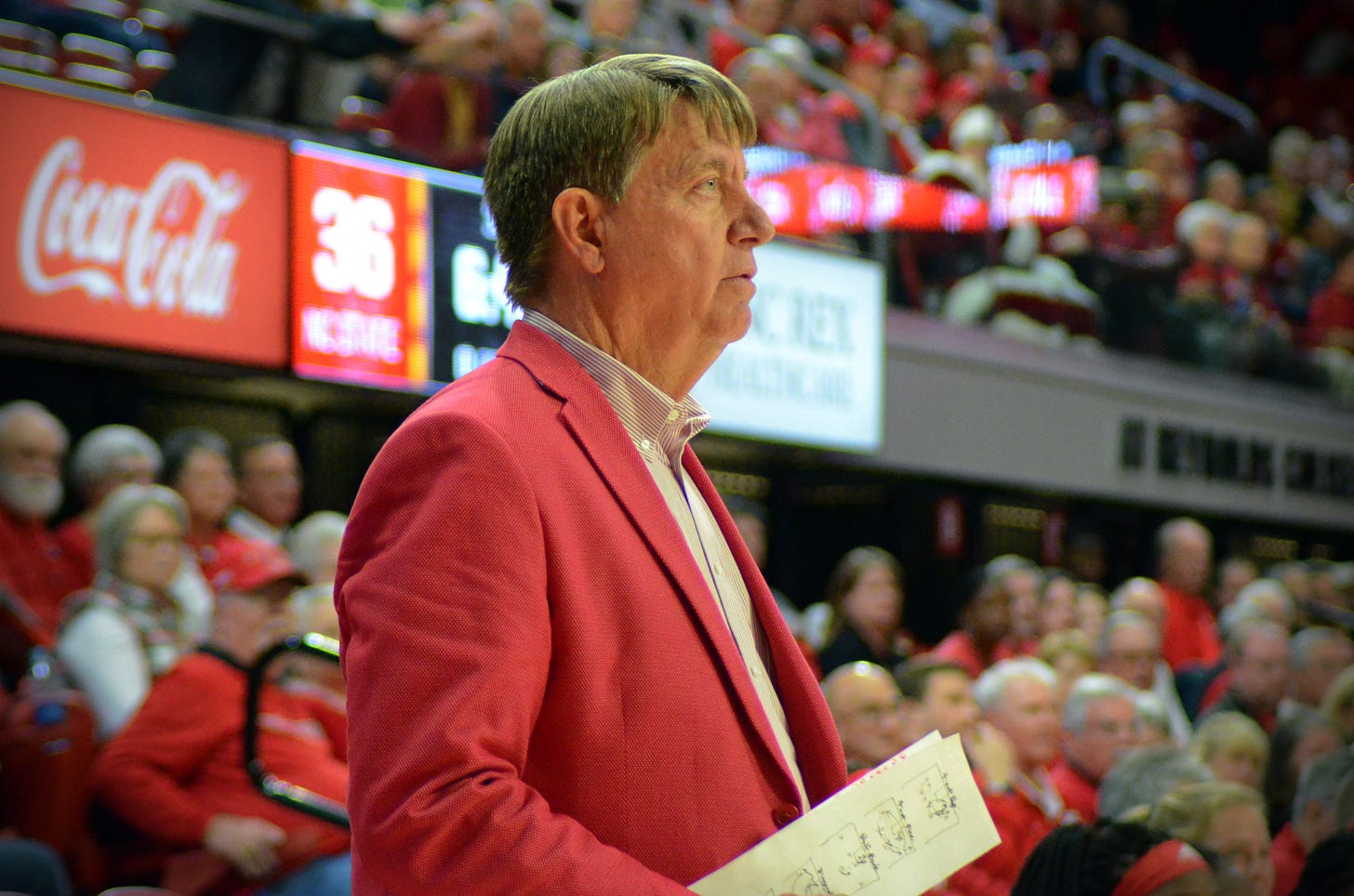 When Wes Moore hopped on a Zoom call with reporters on Thursday he was far, far away from a basketball court. The Texan was on the highway in his home state. Where exactly, nobody really knew.
"I'll be honest with y'all, I just pulled over on the road and just to talk with you guys," Moore said. "I'm somewhere in the middle of Texas — I have no clue where. But that's part of the fun of it. So, yeah, I just needed to get away."
Don't we all?
After some technical difficulties — he had to switch from his phone to his iPad — the N.C. State women's basketball coach reflected on this past season, the seventh in Raleigh for the 63-year-old. The Wolfpack captured their first conference championship since 1991 by beating Florida State in Greensboro for the ACC crown and looked to be a No. 2 seed in the NCAA tournament.
And then, the coronavirus came and crashed everything.
Four days after winning the ACC Championship, Moore and his team were in Reynolds Coliseum going over some film. They were heading to the court for a practice afterwards, but then word came down from the NCAA that official practices couldn't be held. Players stayed and shot around, while the coaching staff tried to figure out what was coming next. Eventually, the NCAA pulled the plug on all sports, including its annual basketball tournaments.
Still, N.C. State earned a luxury that many teams missed out on. The Wolfpack ended their year with a victory. Next season, they'll be hanging a banner for winning the conference tournament. No one can say what would've happened in the NCAA tournament, but Moore and his team can say they were ACC champs and they get to treasure the memory of celebrating with thousands of fans wearing red at the old Greensboro Coliseum forever.
"It was bittersweet, obviously," Moore said. "To win an ACC Championship — I'm first of all thankful that we were able to get in and play all of our games. Really happy for our seniors. Several of them had been through some major injuries and adjusted roles and that sort of thing and for them to put the team first, so to speak, and to pull off something like that was really special.
"It was disappointing to not have a chance to have a run in the NCAA Tournament. But at the same time, we realized there's a whole lot more important things going on in the world right now… I told them all year, you know, we want to do some special this year. And we talked about hanging a banner in Reynolds and those sorts of things. So, to be able to do those and, for me, to be able to end the season with a win — you don't get to do that very often. So, that was kind of nice."
While he's been social distancing, Moore has had a chance to catch a replay of his Wolfpack's 71-66 win over Florida State in the ACC final on the conference's network.
"That Sunday in Greensboro was pretty neat," Moore said. "As a coach, you don't sometimes appreciate the game that's being played. That fourth quarter in particular was pretty special."
The MVP of that game was Aislinn Konig, the lone senior starter for the Wolfpack. She scored 18 points in all, but most importantly hit a transition three-pointer with 2:28 to play to tie the game. Ultimately, Konig powered N.C. State on a 13-3 run to close the game.
Considering the ramifications of the coronavirus, ending a season with a win was sweet and special for the Wolfpack. The only thing that could've made the end to their season better would have been seeing Konig get selected in the WNBA Draft. However, 36 picks came and went last month and Konig didn't hear her name called.
In an interview with reporters after the draft, Konig was asked if she had talked to Moore and she sidestepped the question, giving an awkward and cryptic non-answer, leading some to believe that there was a riff between Moore and his point guard.
Moore said Thursday that he and Konig are fine, but in hindsight he wishes he had called her the night of the draft. Moore said he was on a Zoom call with a recruit and her parents the night of the draft.
"I probably should have went ahead and reached out to her that night," Moore said. "You can't make them draft people. That's a business. I go back to Kiara Leslie. We had coaches at practice all the time. We had coaches and games, obviously. I was constantly getting phone calls from coaches and that sort of thing. And unfortunately, that wasn't the case with Ace, and again, I think Ace worked her tail off all she could. You can't sometimes make yourself more athletic than what God gave you. Do I think Ace is a great player who deserves a chance? Sure. But for whatever reason, those WNBA head coaches didn't agree."
Moore said he's talked to a few WNBA head coaches about getting Konig a spot in training camp, but even those chances seem slim, not just because of the impacts of the coronavirus, but also because star players in the WNBA will be making more money this season by way of the new CBA. That will lead some teams to cut corners on the back end and not carry as many players on their roster.
"I hadn't had a whole lot of enquiries from WNBA head coaches (about Konig). We were both disappointed," Moore said. "I spoke with (Konig) a day or two before the draft. After the draft, to be honest, she was probably disappointed I didn't reach out to her. I think everybody handles things like that differently. That's like me after a loss. I don't really want to talk to anybody.
"We're fine. I mean, I love Ace, and I think she's loved her time at NC State."
Moore's next task will be finding the next Konig — or at least a new starting point guard. She'll be the lone starter that the Wolfpack has to replace this offseason, as Kai Crutchfield, Kayla Jones, All-ACC freshman Jakia Brown Turner and third-team All-American Elissa Cunane are set to return for the 2020-21 season. Moore mentioned that Crutchfield might play some point guard, and rising sophomore Kendal Moore will get a crack at the job too.
"Kendal can really shoot the ball well. What I've got to do a better job of and what we've got to help her do is be a quarterback," Moore said. "She's used to playing in a situation where she had to score 30 every night. Now in this situation, we want our point guard to be a quarterback and get everybody involved."
Moore also mentioned incoming freshman Genesis Bryant contributing at the point. She's a 5-foot-8 four-star prospect from Jonesboro, Georgia, ranked by ESPN as the 23rd best point guard in the 2020 class. Moore didn't rule out the possibility of an incoming transfer either.
This past week was a recruiting shutdown for women's basketball, giving Moore the opportunity to hit the road to get away from texting, scouting and the latest communication tool in recruiting: Zoom calls.
When recruiting does resume, Moore is hoping to flip some of the buzz around his program into getting a few more talented players to help his Wolfpack make their first Final Four since 1998.
"I hope we take another big jump," Moore said. "From a recruiting standpoint, we're definitely trying to stress it, you know, we finished second in the regular season behind Louisville, and then won the ACC tournament. Definitely trying to parlay that into excitement with recruits."
---
Around the ACC
Also read…
From the archives
Long before she was the head coach at Virginia, Tina Thompson was a bonafide scoring machine in the WNBA. In this clip — tweeted out recently by Kurtis Zimmerman, who publishes the awesome Across the Timeline — Thompson just bosses around the San Antonio Silver Stars with ease. Thompson was simply one of the best players the WNBA has ever seen. After a decorated career at USC, she was the No. 1 overall pick in the league's inaugural draft in 1997 by the Houston Comets. Along with the great Sheryl Swoopes and Cynthia Cooper, Thompson helped the Comets win the WNBA's first four Finals (Yes. Four straight Finals. We deserve a 10-part documentary on that team). Thompson was a nine-time all-star, an eight-time All-WNBA selection, and averaged 15.1 and 6.2 rebounds for her career while shooting 41.7 percent from the floor, 37 percent from three and 83.2 percent from the charity stripe. She is fifth all-time in made three's, second all-time in minutes played, third all-time in made field goals, sixth all-time in rebounds, third all-time in free throws made and second all-time in scoring, trailing only Diana Taurasi. At age 38, Thompson was a starter for the Seattle Storm and averaged 14.1 points per-game over 34 games. All of this is to say, Tina Thompson was a tremendous basketball player and we shouldn't forget it. (Also, Taurasi and Sue Bird said that Thompson had more range than Steph Curry, which, I absolutely believe, and there's two shots in this video that can help verify that claim.)
Stay safe. Stay inside. Y'all be good.
---
(Subscribe below. When you hit the subscribe button, you'll notice there's options for free, monthly and yearly subscriptions. For now, all of these posts are going to be free and visible to everyone. But if you want to throw me $5 a month, I won't stop you.)
---
"Everyday is a gift, it's just, does it have to be a pair of socks?"
---
Mitchell Northam is an award-winning journalist based in North Carolina. He grew up on the Eastern Shore of Maryland and is a graduate of Salisbury University. His work has been featured at the Atlanta Journal-Constitution, the Orlando Sentinel, SB Nation, NCAA.com, the Delmarva Daily Times, Sports Illustrated, Pittsburgh Sports Now, High Post Hoops and elsewhere. He is a member of APSE, NWSLMA and USBWA. He's on Twitter 

@primetimeMitch

. More of his work can be found at 

MuckRack

.