Tim Taylor was patient and put family first. Now, he's the head women's basketball coach at Navy.
The longtime ACC assistant landed his first head coaching gig this week.
Welcome back to All in the Game, y'all.
Last week, I wrote about Jocelyn Willoughby, N.C. State's Aislinn Konig and retiring Notre Dame coach Muffet McGraw. And earlier this week, I wrote about the NFL Draft.
To check out all of my women's basketball coverage from 2019-20, click here.
---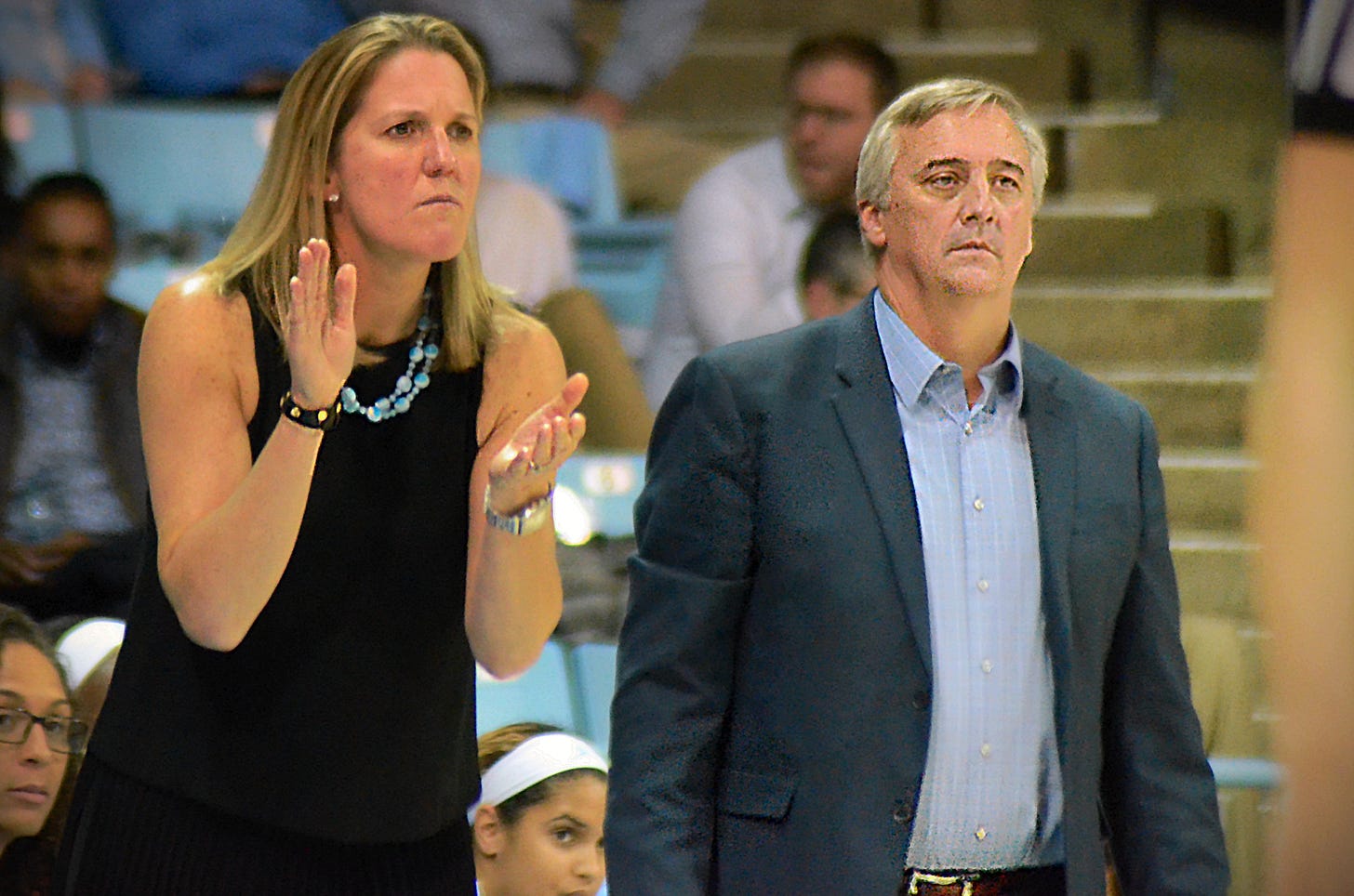 It would be an understatement to say that Tim Taylor has waited a long time for this.
Since beginning his career as a basketball coach in the 1990s, he has always wanted to be a head coach at the Division I level. But Taylor never put his dreams or desires over his faith or family. He wanted to be there for his wife when she was battling cancer in 2005 and he wanted to see his three kids do anything and everything while they were growing up.
So, Taylor remained patient and waited for the right opportunity.
Then, last Sunday night, Naval Academy athletic director Chet Gladchuk called and offered him the job as head coach of the Midshipmen's women's basketball team. Navy announced the hire Tuesday evening.
At 54-years-old, Taylor is finally a head coach in college basketball.
"My whole career," Taylor said when asked how long he's wanted to be a Division I head coach. "You look at my resume and you go, 'Well, why did he get out?' Well, we had some family health issues. We had young kids. I made some family decisions. My faith and my family are the two most important things to me. Every decision I make is what's best for my family, not what's best for Tim Taylor. If that wasn't the case, maybe I would've been a head coach a lot sooner. But I think it has kind of been God's plan and it worked out really well. I have no regrets and I'm excited about the future."
Taylor takes the reins of the Navy program from Stefanie Pemper, who had become its all-time winningest head coach after 12 seasons on the job. Despite making six postseason appearances, Pemper was fired in March after posting a 7-23 season.
One of the losses Navy suffered this past year came on the road to the North Carolina Tar Heels in Chapel Hill, an 80-40 defeat. Taylor had a bit to do with that outcome. As an assistant coach under Courtney Banghart, Navy was one of his scouts.
But even with studying film on Navy for that specific game, Taylor isn't quite sure what sort of systems and playing styles he'll implement with the Mids going forward.
"I don't really know enough yet about what (Pemper's staff) emphasized and what they didn't emphasize. So, for me, I'm trying to give it a fresh start," Taylor said. "I really want to look at each individual kid and see how they fit into the puzzle — what their strengths are, what their weaknesses are — and see how we can improve those and see how that fits into a group. I have a style of play I would love to play, but we've got to give this group the best chance to win on a daily basis."
The 2019-20 season was Taylor's lone year on Banghart's staff in Chapel Hill, but it gave him a crash course on how to reshape a program. Banghart and her assistants were taking the team over from Hall of Famer Sylvia Hatchell, and in their first season went 16-14 overall and 7-11 in ACC play.
Bright spots included starting the year on a nine-game winning streak, handing No. 9 N.C. State its first loss of the season and beating Georgia Tech in overtime on the road. UNC fizzled out near the end of the season though, losing their final eight games.
"It was a tremendous experience for me to see how much that community loves their Tar Heels, and not just basketball. We know that's king, but the love the alumni have for that university is on a different level," Taylor said. "To be there with Coach Banghart to take over a program — very similar to what we're readying to go through — trying to put our stamp on that great program, there were some lessons learned.
"It was a great experience. I love them and I hated leaving, but I just felt called to be (at Navy)."
Before his single season in Chapel Hill, Taylor spent a lot of time fighting and hating that Carolina blue as an assistant at Virginia.
A 1989 graduate of James Madison University, Taylor began his collegiate coaching career at Furman in 1998, where he stayed for two seasons as recruiting coordinator and helped the SoCon program bring in a pair of top 40 classes. For the 2000-01 season, he joined Debbie Ryan's staff at Virginia and helped the 'Hoos make the NCAA tournament four times in the span of five seasons.
After the 2004-05 season, he stepped away from the collegiate game.
"I wanted to be a dad," Taylor said. "I didn't want to chase a bunch of dreams and not be there for my kids. And I'm not saying that can't be done, but we've had a couple of health issues with my kids and my wife, and you do what's best for your family."
Taylor didn't stay away from basketball long though, taking a job as the head boys' coach at Orange County High School, leading them to a 40-12 record and one state championship over two seasons. He then became the head boys' coach at Madison County High School, leading them to a 43-11 record over two seasons.
In 2009, Ryan called on Taylor again, this time making him Virginia's associate head coach, a position he kept through 2012. Virginia went to an NCAA tournament and a WNIT during that stretch.
Taylor left the college game again after that season, taking over as principal at William Wetsel Middle School and also taking a role with the Team Loaded AAU squad. For the 2016-17 season, Taylor returned again to UVA, this time taking an assistant coach position under Joanne Boyle. In two seasons, Virginia made a WNIT and NCAA tournament appearance. Boyle retired after the 2018 season, and Taylor went back to working in the AAU scene until he took the job on Banghart's staff at UNC.
During his time at Virginia, Taylor struck up a friendship with the Cavaliers' men's head coach Tony Bennett. Their sons played high school basketball together and Taylor calls Bennett "a good friend." Bennett was quoted in Navy's announcement of Taylor's hire.
"I have the highest amount of respect for him," Taylor said. "I would go watch their practices as much as I could and you just watch them get better, and get better, and get better, and then all of sudden it's like 'When did they get that good?' To be there when they lost to UMBC, how that was handled and the end result, it's incredible. It's a great friendship and he's been a great mentor."
According to the Capital Gazette, Navy received about 80 applicants for its head women's basketball coach opening. What was it about Taylor that stuck out to Gladchuk?
"I think he was looking for someone that valued leadership, that wanted to inspire kids, that was willing to mentor and I think had a proven track record of being able to win," Taylor said. "I think it was just a like-mindset. We had really good conversations about developing a program and laying a foundation."
All of Taylor's interviews with Gladchuk and the Navy athletic staff were done through Google Hangouts. Even though they weren't face-to-face or in the same room, Taylor could feel that something was just right about the Naval Academy. It just fit.
"I think if you look at my resume, it values institutions with educational and higher purposes. Like a North Carolina, Virginia, even Furman. When you're talking about bringing a kid to your team, it's not just about basketball, it's about the 40 years beyond," Taylor said. "I think the Naval Academy is one step above all those. This academy resonates with me on so many levels. It's about education, it's about the student-athlete experience.
"The people I met — even though it was over computer because of COVID-19 — just felt comfortable. It felt right. It was conversational. The values of Chet and everyone I talked to mirrored what my values are. So, at that point, I was like, 'I can work for these people.' We're here to make a difference."
The one hurdle everyone brings up when someone takes a coaching job at a Service Academy is the difficulty of recruiting. And sure, prospects have to have excellent academics and be committed to serving the United States to attend the academies in West Point, Colorado Springs or Annapolis.
But with Taylor's relationships in the AAU circuits, with his experience of being a long-time ACC recruiter, getting talented players might not be as difficult as some make it sound.
Taylor says he's built relationships with several AAU programs who didn't have kids ready to play at the ACC level, but he helped get them to other schools. Since accepting the Navy job, he's already had coaches reach out and say they have kids interested in playing for him in Annapolis.
"One thing is, I think you're going to know pretty early if a kid is really interested in the Naval Academy," Taylor said. "We'll probably get a bunch of no's, but recruiting is about relationships. People want to know that you're going to take care of the kids, coach them hard and love them as well. You got to have a kid that wants this commitment. It's a pretty good place if you want it. World-class education and you're going to be set-up for life after basketball."
Spending much of his adult life living in Virginia, Taylor has made the trip north to Annapolis a few times with his wife and family for renaissance festivals or just to walk around and shop downtown. He called Annapolis "beautiful" and said he's never heard one negative comment about the Naval Academy.
"I've had friends that have worked there and I've never heard a bad thing about it," Taylor said. "Everybody talks about the recruiting and this and that, but you ask people and they go, 'No. It's good.' So, everything was positive. I'm thankful for the opportunity and excited."
---
---
Elsewhere in women's basketball
Also read…
From the archives
On Tuesday, Baltimore Orioles outfielder Trey Mancini revealed that he has been diagnosed with colon cancer and is undergoing chemotherapy treatments in a piece for the Players' Tribune. Mancini has been a bright spot for O's fans like me over the past few years, since the shine of those teams from 2012 through 2016 faded away. Back in September of 2016, I went to Camden Yards to gather some string for a feature story I was working on about Mychal Givens, a reliever. It just so happened that Mancini made his big-league debut that night — wearing No. 67 and using a Notorious B.I.G. song as his walk-up music — and hit a home run. So, I wrote about that historic day for Mancini and thought about it after reading his Players' Tribune story. Get well soon, Trey.
Stay safe. Stay inside. Y'all be good.
---
(Subscribe below. When you hit the subscribe button, you'll notice there's options for free, monthly and yearly subscriptions. For now, all of these posts are going to be free and visible to everyone. But if you want to throw me $5 a month, I won't stop you.)
---
"Thanks for stopping by. Next time, we'll have party hats."
---
Mitchell Northam is an award-winning journalist based in North Carolina. He grew up on the Eastern Shore of Maryland and is a graduate of Salisbury University. His work has been featured at the Atlanta Journal-Constitution, the Orlando Sentinel, SB Nation, NCAA.com, the Delmarva Daily Times, Sports Illustrated, Pittsburgh Sports Now, High Post Hoops and elsewhere. He is a member of APSE, NWSLMA and USBWA. He's on Twitter 

@primetimeMitch

. More of his work can be found at 

MuckRack

.