Duke's Leaonna Odom could be a steal in the WNBA Draft
Odom proved to be a versatile talent, a stellar scorer and a solid rebounder in the ACC. The question is, what's her potential?
Welcome back to All in the Game, y'all. Today's newsletter takes a look at a WNBA draft prospect from Duke, Leaonna Odom, a player I really enjoyed watching and covering this past season.
Earlier this week, I wrote about what's next for Virginia Tech and I also put together a big ACC women's basketball notebook.
To check out all of my women's basketball coverage from 2019-20, click here.
---
One of the more intriguing prospects in the WNBA Draft this year is Leaonna Odom. Not because of what she is, but what she can become.
As a 6-foot-2 senior this past season for the Duke Blue Devils, she averaged 14.3 points and 6.2 rebounds per-game while shooting 54.5 percent from the floor. She proved this past season that she could be an effective scorer and gave Duke a one-two punch along with Haley Gorecki. Odom and Gorecki combined to form the ACC's top scoring duo, averaging 32.8 points per-game, which was 0.8 points better than Louisville's Dana Evans and Jazmine Jones. Impressive, indeed.
Among her best performances as a senior, Odom scored 20 points at Nebraska, 23 points at Syracuse, 20 points at Clemson and 22 points against Boston College in the ACC tournament. She's also a decent passer (averaging 2.6 assists per-game as a junior), an energetic defender (averaging 1.9 steals per-game as a senior, which was fifth in the ACC) and an effective rebounder for her size. Odom can really jump out of the gym and might've had the best vertical of any player in the ACC this past season (Duke's website says it's 27.5 inches).
When Odom drove toward the basket and then elevated, it seemed like she was gliding through the air. It would be easy to use the word fluid to describe her movements on the court. Everything seems natural and instinctive. Scoring at the rim was her bread and butter, and she often did it with ease, using her quickness to get past post players and length to move around smaller defenders.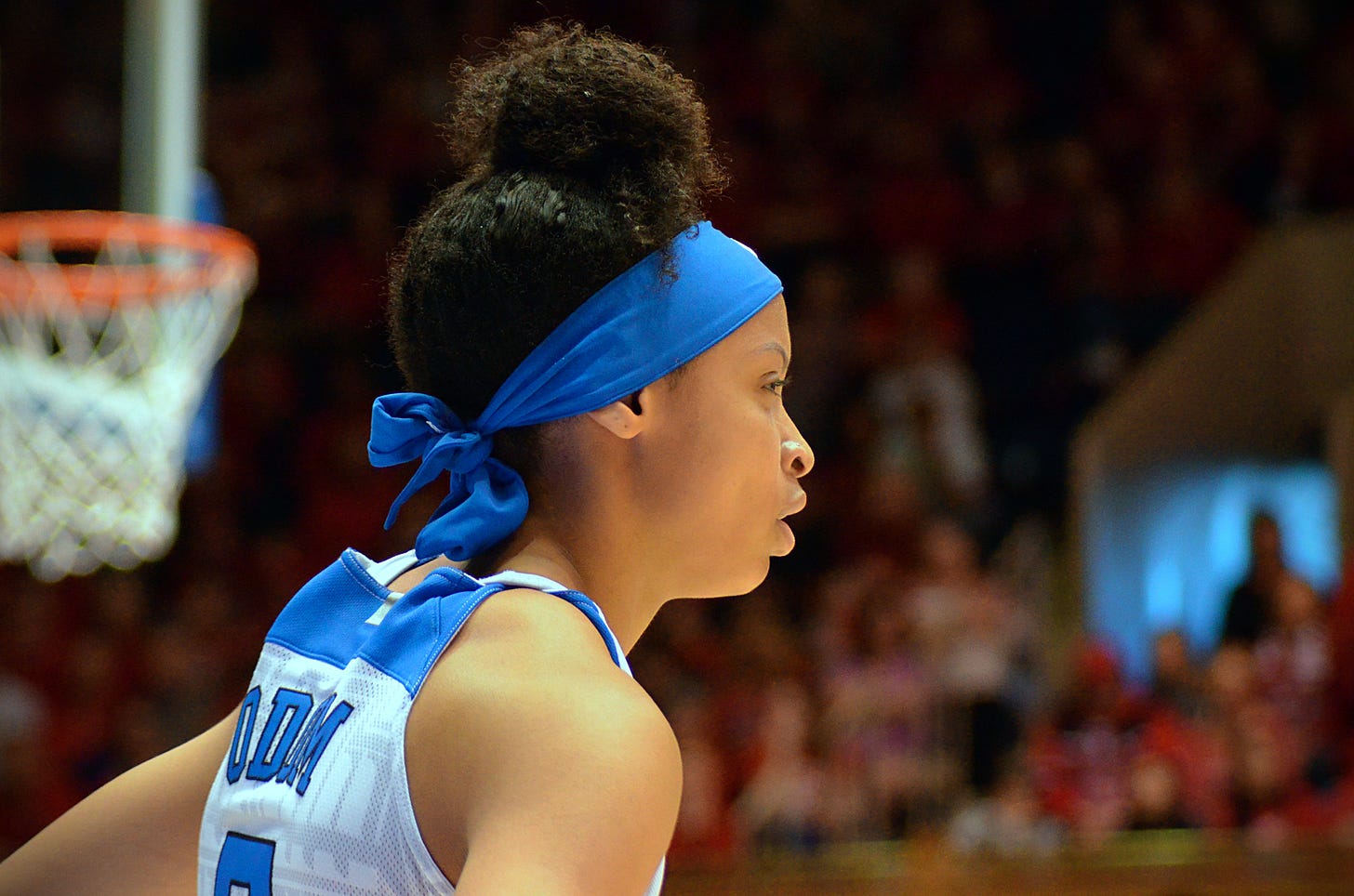 Early on this past season, Odom gave a glimpse to skill she seems to keep deep down in her bag of tricks, something she didn't show off often, but maybe should have: a three-point shot.
She swished a pair of corner three's in Duke's season-opening win against High Point, and it seemed like she had unlocked something, like it was another secret weapon for Duke. But Odom went just 1-of-5 from three-point land for the remainder of the season. It's clear that she can make the shot at least some of the time, and improving that part of her game will be critical to her success as a pro. If she gains confidence in her three-ball and begins to take — and make — more of them, it could turn her a multi-dimensional scorer.
Even without the threat of scoring from outside, Odom continued to excel for Duke. In January, Odom earned the USBWA National Player of the Week award, hitting 76 percent of all of her shots in a pair of victories over Syracuse and Georgia Tech. At the end of the season, she landed on the All-ACC Second Team. According to Her Hoops Stats, she finished the year 34th in the nation in two-point field goals made per-game.
Odom's college career is behind her and she leaves Duke ranking 10th all-time in field goals made. Next up is the WNBA, but where Odom goes in the draft seems to be up for speculation.
She wasn't mentioned in the High Post Hoops' three-round mock draft, while ESPN and Swish Appeal had her pegged to go 17th to the Atlanta Dream. ESPN lists her as a power forward, but another thing that makes Odom such an appealing prospect is she can really play 1 through 4, because of her length, speed, ball-handling skills, passing ability, toughness, smarts and knack for scoring.
In Duke's upset win over then-ranked No. 14 Florida State in February, Odom spent much of the game playing point guard and had zero turnovers in 40 minutes.
Blue Devils' head coach Joanne P. McCallie said afterwards: "Directly speaking, Neah's leadership… Zero turnovers and playing out there and handling the point as well as other positions on the floor. Her leadership was fantastic… I thought Neah stepping up at point was huge. That was great to see Neah do that because we're very effective when Neah runs the point."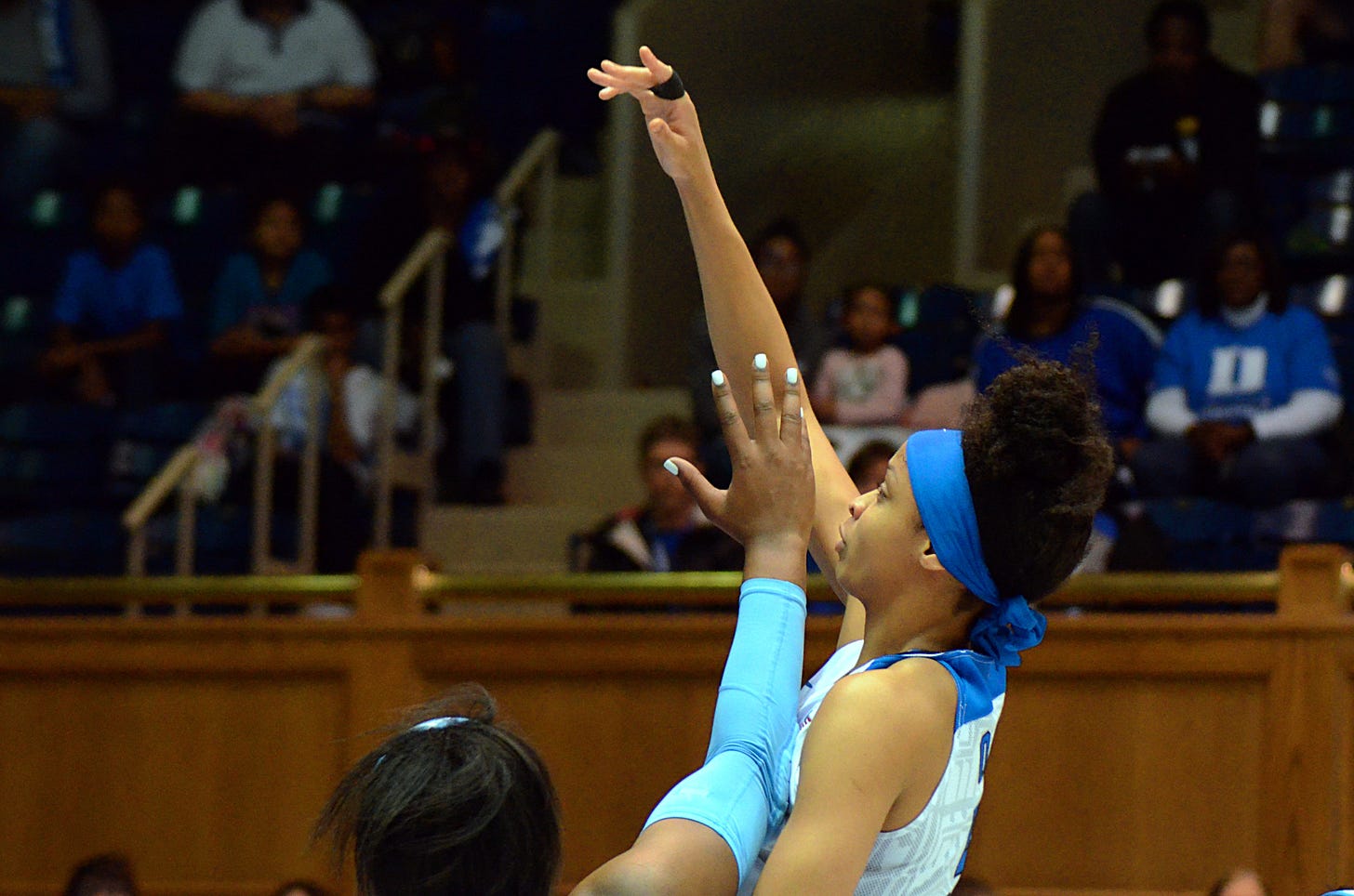 Throughout last season, a few other ACC coaches raved about Odom after they faced Duke. Here's what they said:
Joanna Bernabei-McNamee, Boston College
"You know what makes (Odom) such a tough match-up? She jumps like she's six-foot-eight or nine. She's just long and very athletic… And I think it's exactly what makes Taylor Soule a tough match-up, and as Taylor Soule continues to grow as a player and continues to develop her shot, that's the type of player I see her looking like."
Nell Fortner, Georgia Tech
"Leaonna Odom, Haley Gorecki… I mean those two kids, we knew that we had our hands full with them, and it was really Odom; she just took the game over. I can't remember if it was the third or the fourth quarter, but she just took it over. Just rose up and shot. I mean, there's just no type of defense you can play on that, unless you can just keep the ball out of her hands. I thought she was pretty phenomenal today."
Odom just turned 22 years old on March 26 and seemed to get better each season she was at Duke. She never became a star in college, but if a WNBA team can nab her in the second round, Odom could turn out to be a stellar steal. Because it's unclear where the ceiling is on her potential.
Elsewhere in women's basketball
Stay safe. Stay inside. Y'all be good.
---
(Subscribe below. When you hit the subscribe button, you'll notice there's options for free, monthly and yearly subscriptions. For now, all of these posts are going to be free and visible to everyone. But if you want to throw me $5 a month, I won't stop you.)
---
"Ain't gonna be no trouble over no ball."
---
Mitchell Northam is an award-winning journalist based in North Carolina. He grew up on the Eastern Shore of Maryland and is a graduate of Salisbury University. His work has been featured at the Atlanta Journal-Constitution, the Orlando Sentinel, SB Nation, NCAA.com, the Delmarva Daily Times, Sports Illustrated, Pittsburgh Sports Now, FanSided and elsewhere. He is a member of APSE, NWSLMA and USBWA. He's on Twitter 

@primetimeMitch

. More of his work can be found at 

MuckRack

.