N.C. State lands a transfer and other ACC notes
Wes Moore may have found his new point guard in Raina Perez. Also: ACC notes, reading recommendations and more.
Welcome back to All in the Game, y'all.
To check out all of my women's basketball coverage from 2019-20, click here.
Also, I'm writing a book!
---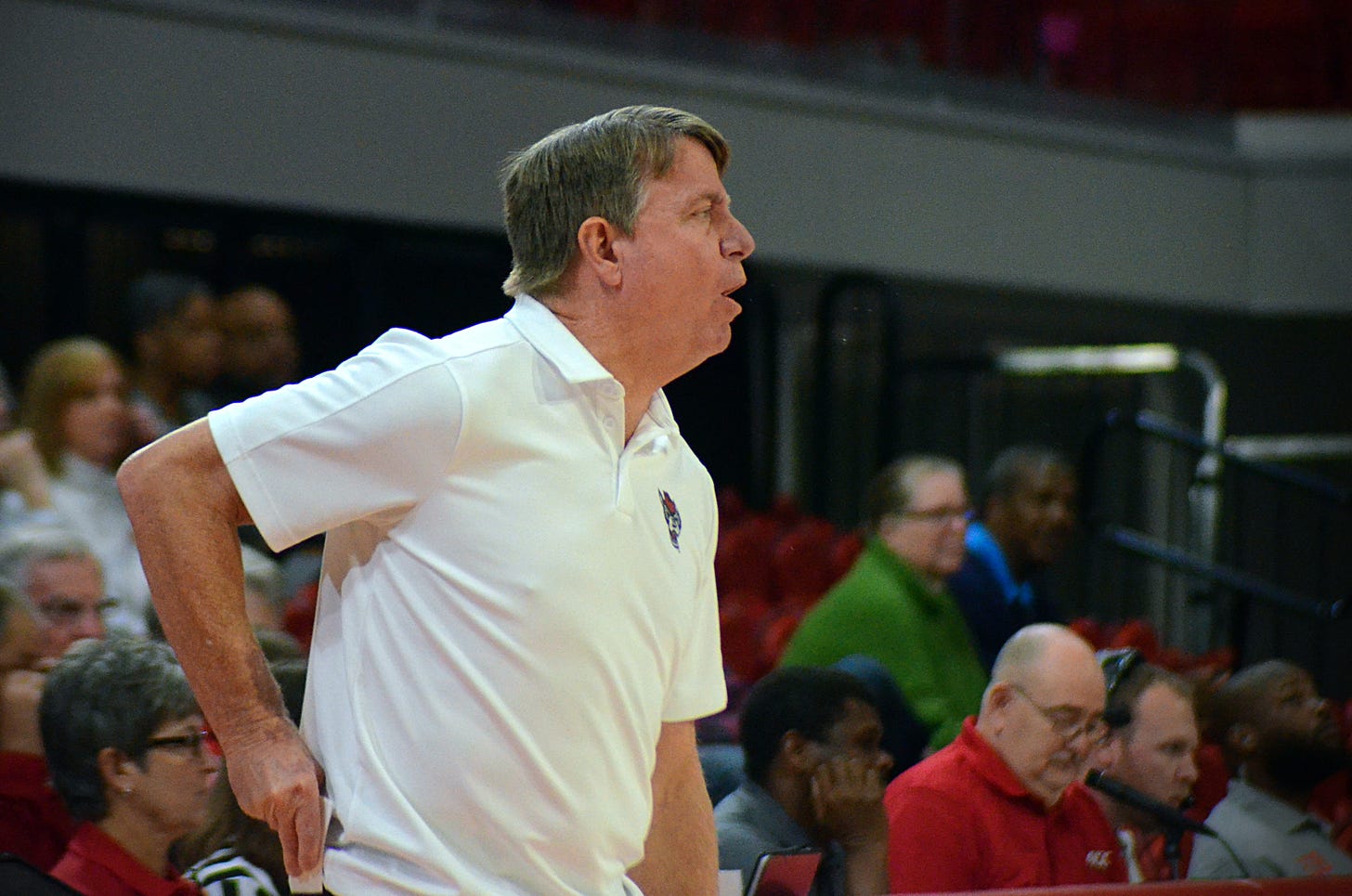 On a Zoom call last week, N.C. State head coach Wes Moore eluded to a card he might have up his sleeve to replace Ace Konig, his starting point guard who is out of eligibility. Moore mentioned there was a possibility the Wolfpack might bring in a transfer or two this offseason to bolster their roster.
"We've got, again, some potential transfers still out there that I think will make a decision next week, maybe after this shutdown period," Moore said. "They're probably enjoying the shutdown period right now because we can't bug them… Obviously a graduate transfer can come in and play immediately. And so there is still a possibility of something like that happening."
On Thursday, N.C. State's first incoming transfer of the offseason became official. Raina Perez, a graduate transfer from Cal State Fullerton, has joined the Wolfpack and is eligible to play immediately. She was also considering Clemson, Illinois and Washington.
A 5-foot-4 guard, Perez was the Big West Player of the Year in 2019-20 after averaging 19.8 points, 5.4 rebounds and 4.2 assists per-game. Her scoring average led the Big West and was 14th in the nation. ESPN had tabbed Perez as the fifth best transfer on the market.
"A combo guard, she can create her own shot while also keeping her teammates involved," Moore said in a statement. "With the recent graduation of three talented guards, Raina brings much-needed experience and scoring to the position."
According to Her Hoop Stats, Perez was in the 86th percentile for points per-play and fourth in the nation in field goals made.
"They're a winning team and I wanted to play on a bigger stage in the ACC," Perez told AZ Central. "They have a good platform. It's a higher major D-1 (program) and they're aired on ESPN every night."
This will be Perez's third school, as she spent her freshman season at Northern Arizona where she led all freshmen in the Big Sky Conference in scoring during league play in 2016-17.
Perez will likely compete for the starting point guard at N.C. State, as it's the lone position where a starter isn't returning for the Wolfpack following the graduation of Konig, the ACC Tournament MVP. Incoming freshman Genesis Bryant — a four-star prospect from Georgia — and rising sophomore Kendal Moore could also compete for minutes at the point.
Should Perez win the job, she would give N.C. State another solid three-point threat, as she shot 35.5 percent from behind the arc last season. She's a scrappy defender too, averaging 1.6 steals per-game.
It would be reasonable to expect Perez's scoring totals to take a dip, but her assist numbers should get a bump by feeding Elissa Cunane in the paint, setting up Kayla Jones, or driving and kicking to Jakia Brown-Turner and Kai Crutchfield for three-pointers.
Perez certainly increases the Wolfpack's chances of successfully defending their ACC crown.
---
Around the ACC
Elsewhere in women's basketball
I've written and Tweeted many times about the late Gail Gladding, who was a trailblazer for women's basketball on the Eastern Shore of Maryland in several ways. Long before she became a great coach at Pocomoke High School, she was a player for Brenda Jones' squad at Snow Hill. In 1973, the first year Maryland held a state tournament for girls high school basketball, Gladding (then Gail Tatterson) powered the Eagles into the championship game. She led Snow Hill to a 19-2 record that season and had 30 points and 29 rebounds in a state semifinals win over Middletown, according to a story from the Salisbury Daily Times.
Again: 30 points, 29 rebounds.
Gail ran into some foul trouble in the final though and finished with just 14 points as Parkville won the championship 49-44.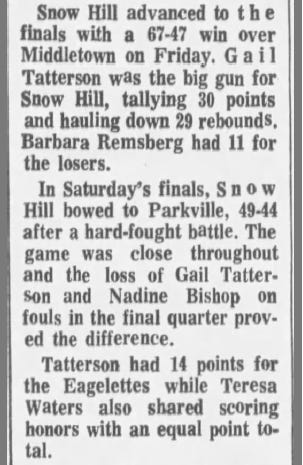 Jones and Snow Hill would later become the first girls team from the Eastern Shore to win a state title in 1979, beating Smithsburg 54-49. Gail was playing professionally by then, starring for the New Jersey Gems of the WBL. She once scored 44 points in a single game, according to the New York Times.
Some stuff I wrote
I'll be doing some sports reporting and columns for a local independent weekly newspaper here in North Carolina, the Chatham News + Record. My first two stories there are a look at how golf courses in Chatham County are thriving during the coronavirus, and how the NFL Draft gave us a much-needed distraction from the pandemic.
A book review
I'm much more into non-fiction than I am novels, but every now and then something will draw me into one. In this case, I picked up "The Perfume Burned His Eyes" because it's written by Michael Imperioli, who plays the loyal but erratic Christopher Moltisanti on the Sopranos (I found myself reading the book in Chrissy's voice, but Adriana or Paulie Walnuts never showed up).
The coming-of-age story is set in New York in the 1970s and follows Matthew, a teenager who is struggling with identity and confidence issues after the death of his father who walked out on him. His mother — often strung out on a cocktail of drugs — falls into some cash and moves herself and Matthew out of Queens and into an upscale apartment in Manhattan; you know, one of those buildings with a doorman.
In this fresh environment, Matthew gets a job, starts at a new school, falls for an intoxicating and mysterious girl, and strikes up an unlikely friendship with an older man who lives in the same building — Lou Reed. Yes, that Lou Reed.
Imperioli is a fantastic writer and paints a vivid picture in this book, where it seemed like every scene was very real. It's an entrancing, compelling, unpredictable and fast-paced story. I didn't want to put it down. There are moments that are hilarious, parts that are haunting and some that are crushing. Imperioli gives us an adventure worth discovering.
*And if you're a fan of the Sopranos, I recommend listening to a new podcast Imperioli started with Steve Schirripa (Bobby Baccalieri) called "Talking Sopranos" where they break down each episode.
---
Stay safe. Stay inside. Y'all be good.
---
(Subscribe below. When you hit the subscribe button, you'll notice there's options for free, monthly and yearly subscriptions. For now, all of these posts are going to be free and visible to everyone. But if you want to throw me $5 a month, I won't stop you.)
---
---
Mitchell Northam is an award-winning journalist based in North Carolina. He grew up on the Eastern Shore of Maryland and is a graduate of Salisbury University. His work has been featured at the Atlanta Journal-Constitution, the Orlando Sentinel, SB Nation, NCAA.com, the Delmarva Daily Times, Sports Illustrated, Pittsburgh Sports Now, High Post Hoops and elsewhere. He is a member of APSE, NWSLMA and USBWA. He's on Twitter 

@primetimeMitch

. More of his work can be found at 

MuckRack

.