Stephanie Watts returns to UNC. Also, notes!
Joanne P. McCallie calls it quits at Duke, John Swofford announces his retirement, transfers and more.
Welcome back to All in the Game, y'all.
Before we get to UNC's latest addition, a lot happened at Duke this week. I wrote about Sara Anastasieska transferring there and head coach Joanne P. McCallie resigning for The Next. Check that out. Also, I updated the ACC transfer tracker.
---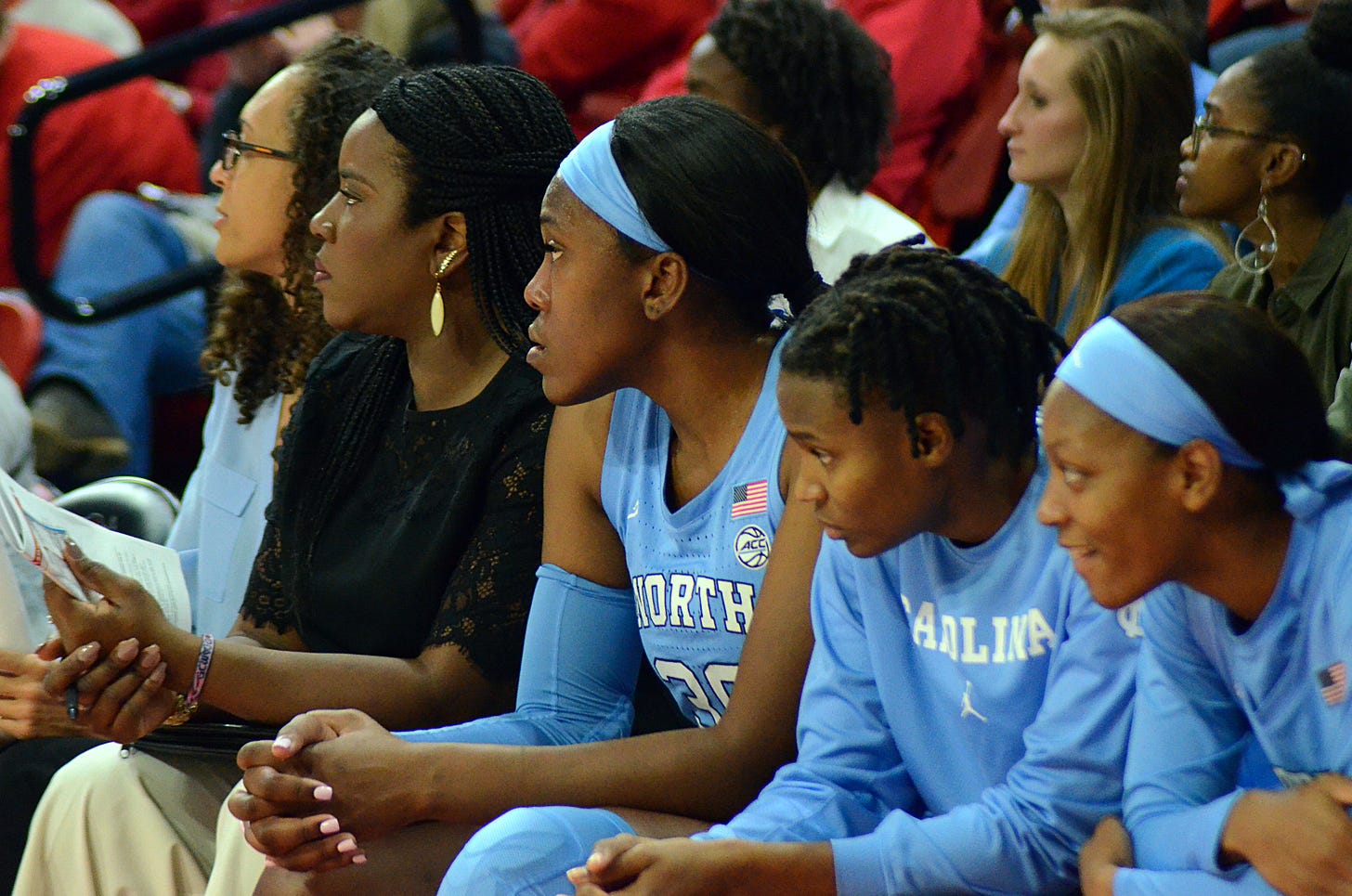 North Carolina's outlook for the upcoming women's college basketball season just got a whole lot brighter.
The program announced Monday that Stephanie Watts is coming back to Chapel Hill for her final year of eligibility.
Watts spent the first three seasons of her career at UNC before grad-transferring to Southern California last offseason. She played just four games for the Trojans though before a knee injury derailed her 2019-20 campaign. The NCAA granted her an extra year of eligibility, and she's decided to return to Chapel Hill to play it under Courtney Banghart.
"I like to believe that everything happens for a reason," Watts said in a statement. "When thinking about my last season of college basketball coming up, it just didn't feel right spending it anywhere other than my alma mater."
A native of Wesley Chapel, North Carolina — a small town southeast of Charlotte — Watts began her career at UNC with a bang in 2015-16, claiming ACC Freshman of the Year honors after averaging 14.7 points and 7.2 rebounds per-game and setting a UNC freshman record for three-pointers made with 76. Watts averaged 16.8 points per-game as a sophomore and also set the program record for most three's made in a single game with 10 vs. Charleston Southern. She missed her natural junior year, but came back in 2018-19 to average 15.2 points, 5.5 rebounds and 3.1 assists per game while shooting 37.3 percent from behind the arc.
Watts was one of several players to transfer away from UNC in the 2019 offseason. Around that time, longtime head coach Sylvia Hatchell resigned after a program review found that she made "racially insensitive" comments and that she pressured players to play through injuries.
At USC, Watts was solid through her first four games, which included a 14-point and 12-rebound outing against Virginia. It looked like Watts would be a spark for USC and play a key role, but a knee injury forced her to miss the remainder of the season.
Now healthy, when she got the opportunity to return to UNC this summer, she jumped at it.
"UNC is home for me and I'm excited to have the opportunity to play for Coach Banghart and be back wearing Carolina Blue," she said.
Watts has a bachelor's degree in public policy from UNC and will look to finish her master's degree in entrepreneurship there. She is already in the Tar Heels' record books as a 1,000-point scorer.
"The fact that Steph wanted to come back to finish her playing career in Carolina Blue speaks volumes to her love for and trust in this place and program," Banghart said.
With Watts back in the fold, UNC has the makings of a backcourt tandem that could be explosive from three-point range. Graduate transfer Petra Holešínská shot 41 percent from behind the arc last season for Illinois. If defenders guard her and Watts too closely, Janelle Bailey and Malu Tshitenge could score with ease in the paint.
The potential is there for the Tar Heels to have a very versatile and potent offense in Banghart's second season at the helm.
---
Around the ACC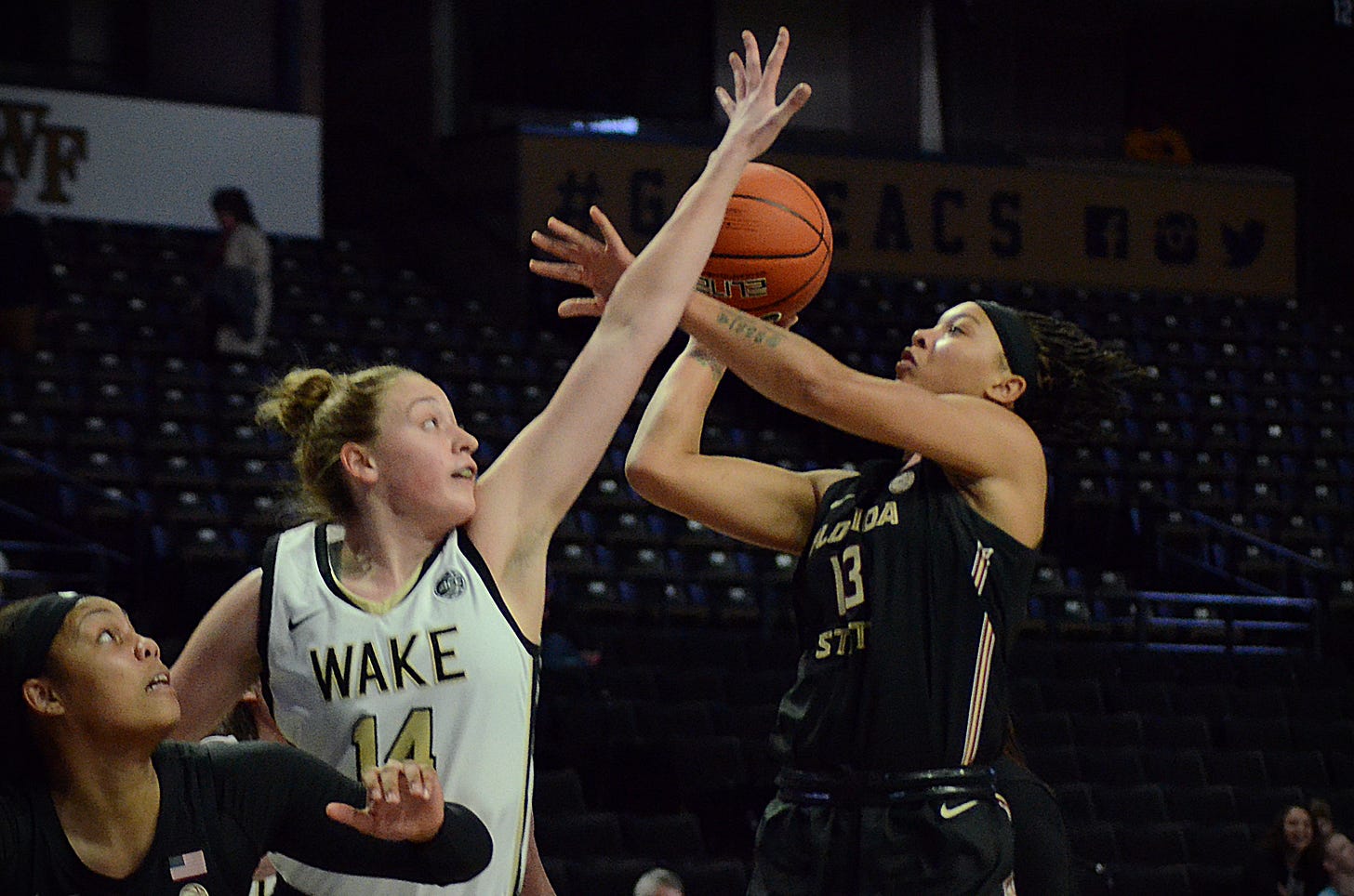 Spanning the South
Elsewhere in women's basketball…
Also read
Stay safe. Y'all be good.
---
(Subscribe below. When you hit the subscribe button, you'll notice there's options for free, monthly and yearly subscriptions. For now, all of these posts are going to be free and visible to everyone. But if you want to throw me $5 a month, I won't stop you.)
---
"If I hear the music, I'm gonna dance."
---
Mitchell Northam is an award-winning journalist based in North Carolina. He grew up on the Eastern Shore of Maryland and is a graduate of Salisbury University. He is a digital producer at WUNC, and his work has also been featured at the Atlanta Journal-Constitution, the Orlando Sentinel, SB Nation, NCAA.com, the Delmarva Daily Times, Sports Illustrated, Pittsburgh Sports Now and elsewhere. He is a member of APSE, NWSLMA and USBWA. He's on Twitter 

@primetimeMitch

. More of his work can be found at 

MuckRack

.