Virginia's Jocelyn Willoughby leads the ACC in the WNBA Draft
Eight players from the ACC were drafted into the WNBA last Friday. Willoughby could be key for the New York Liberty alongside Sabrina Ionescu.
Welcome back to All in the Game, y'all.
Last week, I wrote about Azana Baines transferring and ACC prospects heading into the WNBA Draft. On Friday, the draft happened. Sabrina Ionescu (to no one's surprise) went No. 1 overall. Rounding out the top 10 was the first ACC pick of the night, Jocelyn Willoughby.
To check out all of my women's basketball coverage from 2019-20, click here.
---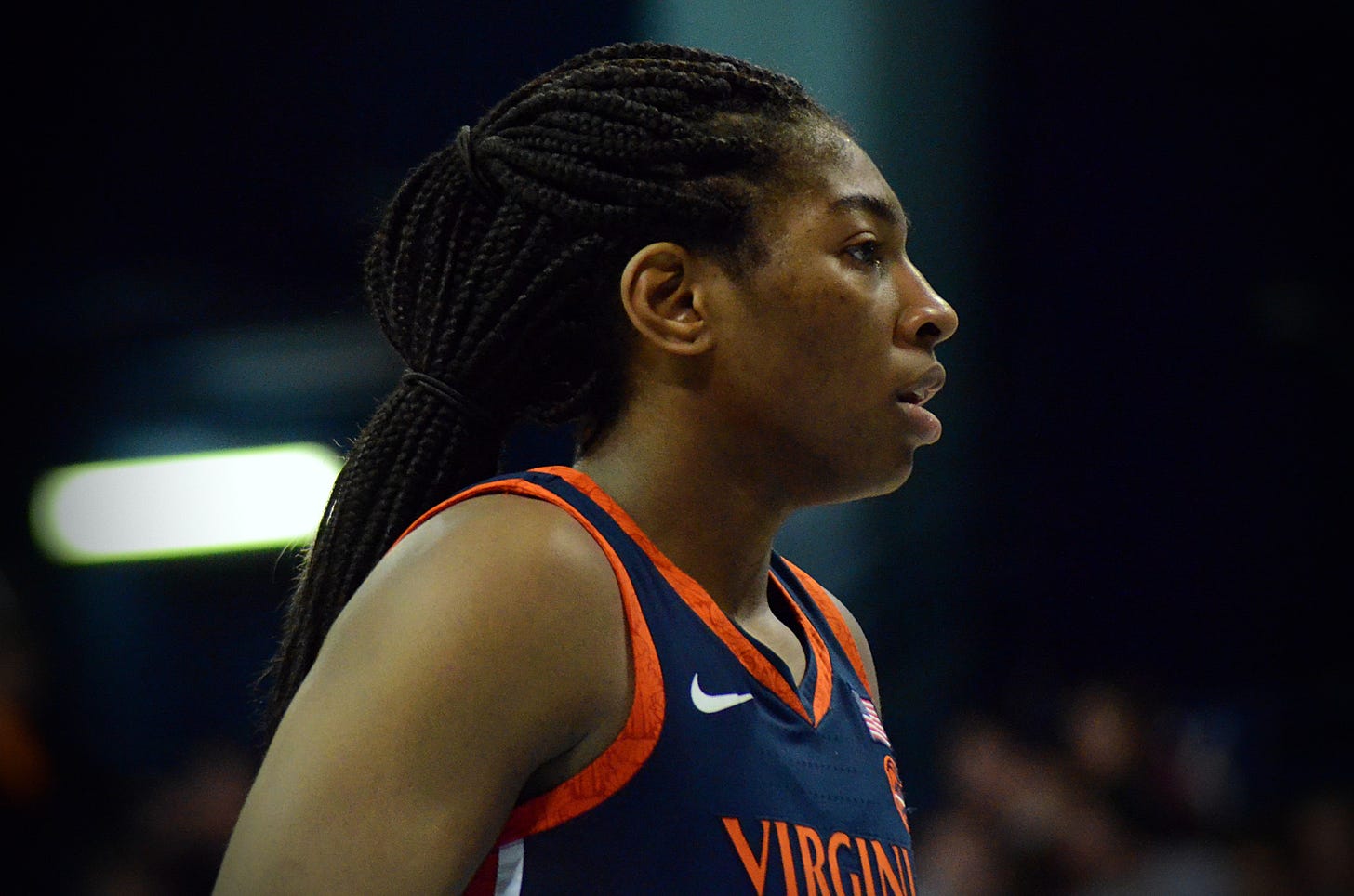 If you asked six people who watched women's college basketball this past season, they might've given you six completely different responses when answering this question: Who was the best player in the ACC?
Louisville's Dana Evans won the league's Player of the Year award, but Elissa Cunane led it rebounding and powered N.C. State to a conference championship. Haley Gorecki engineered a turnaround at Duke at landed on the All-American Third Team, and Kiah Gillespie helped push Florida State to the ACC title game. Beatrice Mompremier of Miami was tabbed as the player with the highest potential as a pro.
And then, there's Virginia's Jocelyn Willoughby, who was largely a one-woman show for the rebuilding Virginia Cavaliers this past season. Whenever an opposing ACC team went against Virginia, they knew they had to stop Willoughby to win. And even while facing double teams and junk defenses, Willoughby still led the league in scoring, averaging 19.2 points per-game. Virginia limped toward a 13-17 record, but Willoughby was a consensus First Team All-ACC selection and set her sights on playing in the pros.
There's no question that Willoughby is a formidable and talented scorer, but few projected her to be selected in the first round of last Friday's 2020 WNBA Draft. Even she was surprised.
Still, if you were to ask Sandy Brondello or Walt Hopkins who the best player in the ACC was this past season, they might have told you it was Willoughby, considering Brondello's Phoenix Mercury drafted her 10th overall and Hopkins' New York Liberty traded for her later in the evening.
Willoughby was one of eight ACC players selected in the virtual draft and the first off the board for the conference.
"I did not," Willoughby said when asked her if she thought she would be the first ACC player drafted in this year's class. "I don't think I even really considered who of the ACC players would be first. I think for me, it was just more so waiting to hear my name called and see what team I was going to. You know, I knew there were many, many talented players in this draft class, and so it was just a matter of if my name was going to be called and when, not so much over who."
A native of Newark, New Jersey, Willoughby is playing for the pro team closest to her home. The other part about going to the Liberty that will be familiar for her is seeing known faces of rivals turned into teammates. The Liberty also selected Louisville's Kylee Shook and Jazmine Jones, and Duke's Leaonna Odom. Former Louisville standout Asia Durr is also in New York. The Liberty will have a ton of ACC talent on its roster.
"Kylee, she's a stretch four, she can shoot but also play around the basket," Willoughby said. "I think Jazmine, she brings great energy, and especially on the defensive end, so I appreciate that, playing against her... Odom, she's super long and super athletic. It's nice to not have the ACC rivalry continue and to have them as teammates."
Of course, Willoughby was not the headlining pick for the Liberty. At No. 1 overall, Hopkins' rebuilding side picked Sabrina Ionescu, a transcendent and versatile guard from Oregon. Then at No. 9, the pick before Willoughby, the Liberty drafted UConn's Megan Walker.
Still, whenever the WNBA begins play this year, there's going to be roster spots and starting opportunities up for grabs with the Liberty. Willoughby is ready for the challenge and prepared to seize a chance.
"I feel ready, but as I said in college and even to a greater degree now, it's always about continuing to work, and being confident in my game but always knowing that there's room to grow and improve," Willoughby said. "It's going to be a learning curve. I know that. But just being willing and ready to put in the work to do what's necessary at the next level."
At Virginia, Willoughby was — at 6-foot — a player who could guard and score from positions one through four at an efficient rate. In addition to scoring, she led the 'Hoos in rebounding with 7.7 boards per-game, free throw percentage (87%) and three-point percentage (41.6%). The latter of those two numbers should translate well to the pros, and the rebounding average shows her tenacity and willingness to do the dirty work.
Willoughby was also third on the team in steals (39), second in blocks (17) and third in assists (60). One of her best games as a senior came in an upset victory at Virginia Tech on Feb. 23, where she scored 29 points on 8-of-14 shooting while also tallying 10 rebounds, two assists and three blocks.
What will be different for Willoughby in New York is that she won't be required to carry the load in every aspect of the game in every moment like she did at Virginia. Playing with players like Ionescu and Durr, it'll likely be rare that Willoughby is the focal point of an opposing defense. Willoughby knows how to spot and expose a mismatch, and if she's the third or fourth scoring option for the Liberty, she might see a whole lot of them.
Willoughby is the first Virginia player drafted since Monica Wright in 2010. While it seemed like the 'Hoos had a bumpy season on-paper in 2019-20, they did win eight games in the ACC, making it just the fourth time they've done that in the last 10 years. For the Tina Thompson era in Charlottesville, Willoughby was not only a player who helped set the foundation, but someone that younger players can now look up to, like Willoughby did to Wright.
"I think I definitely have had a mark on the program," Willoughby said. "You know, I've had very, very great success at UVA, and I think more than anything, we had a very young class this past year, and so it was about trying to set an example for them to follow in the years to come, to just set standards that would set a solid foundation.
"I mean, I take so much pride in it. I think it's funny, when Monica got back on staff this year, the very first day she met me, she's like, 'You're going to be a draft pick. We need to start working on this.' … It was just really, really special to be able to share that with her back as part of the program because I know she put so much energy and effort into building it and I was kind of able to carry that forth."
ACC in the WNBA Draft recap
No. 10: Jocelyn Willoughby, Phoenix Mercury (Traded to New York Liberty), Virginia

No. 12: Jazmine Jones, New York Liberty, Louisville

No. 13: Kylee Shook, New York Liberty, Louisville

No. 15: Leaonna Odom, New York Liberty, Duke

No. 20: Beatrice Mompremier, Los Angeles Sparks, Miami

No. 27: Kobi Thornton, Atlanta Dream, Clemson

No. 31: Haley Gorecki, Seattle Storm, Duke

No. 32: Kiah Gillespie, Chicago Sky, Florida State
The ACC, by the way, led all conferences with eight selections in the draft.
Mompremier falls to the Sparks
Nearly every mock draft or big board out there had Miami's Beatrice Mompremier being selected in the first round, often inside the top 10. That didn't happen. Post players like Oregon's Ruthy Hebard, Louisville's Kylee Shook and Texas Tech's Brittany Brewer all went ahead of her. Finally, at No. 20, the LA Sparks called for Mompremier.
A 6-foot-4 relentless rebounder and scoring machine, Mompremier was thought of as someone who could've left school early last season to enter the draft. Instead, she came back and was tabbed as the preseason ACC Player of the Year, but a foot injury derailed her senior season and forced her to miss 13 games. Still, in some moments, Mompremier was able to show off the talent that had made her such a heralded prospect: 31 points and 18 rebounds at DePaul, 15 points, five blocks and 19 rebounds against Washington State, 23 points and 10 rebounds at Wake Forest, and 23 points, six rebounds and three assists in the final game of her college career, an ACC tournament loss to Clemson.
Mompremier's injured foot apparently spooked some WNBA teams, but not the Sparks, perhaps the team that needed her least as they feature a frontcourt composed of Nneka and Chiney Ogwumike, and Candace Parker. Still, the LA club was elated to land her.
Sparks' interim general manager Michael Fisher told the Athletic: "I mean, like, wow. Everybody had Mompremier in the first-round mock draft, and I'm just — mindblown. We have a first-round talent on our team and we're excited."
It's unclear when the WNBA season will start and when Mompremier will join the Sparks, but according to her high school coach Sam Baumgarten, she might be motivated to prove some folks wrong.
Baumgarten told the Miami Herald: "She's distraught. She gets caught up in the first round/second round thing. "But I think she's a steal for the Sparks."
Atlanta takes Thornton
Aside from Mompremier and Kiah Gillespie falling, the other surprise of the night was seeing Clemson's Kobi Thornton get drafted at all. This isn't to say that Thornton isn't an extremely talented player – and an exceptional defender – but no mock draft from websites that regularly cover the sport projected her to get selected.
However, the Atlanta Dream liked the Shellman, Georgia native enough to bring her home with the 27th overall pick.
"Kobi is a prototype WNBA athlete," Dream head coach Nicki Collen said. "She is good around the rim, great on the glass, and competes on every possession. We are delighted to welcome her to the Dream"
Clemson did not have a good season in 2019-20, finishing with an 8-23 record and just three regular season victories in the ACC. Particular low points included losing home games to Navy and N.C. A&T, and getting thumped in back-to-back games by South Carolina and Maryland, making it clear that this group of Tigers weren't going to contend. Still, Clemson did take a win in the ACC tournament, topping Miami, before falling to Boston College. Thornton scored 27 points in that victory over the Hurricanes.
At 6-foot-2, Thornton was often labeled as an undersized power forward, but always played bigger than what was on paper. As a senior, she averaged 13.1 points and 5.7 rebounds per-game while shooting 46.6 percent from the floor. As a junior, with impactful and talented players around her, she was a bit better: 14.1 points, 7.1 rebounds and a block per-game while shooting 49.1 percent from the floor and leading the Tigers to their first NCAA tournament appearance since 2002.
"I've been told I resemble Natasha Howard," Thornton said during a post-draft Zoom call. "I think what can set me apart is just my athleticism, my ability to just leap when I go after a rebound."
Thornton was an All-ACC Second Team selection as a junior. She finished her career ranked third in blocks and sixth in rebounds for the program. Thornton is just the third-ever Clemson player to be drafted and the first since Chrissy Floyd in 2003.
Also…
Here's what Seattle Storm head coach Dan Hughes said about third-round pick Haley Gorecki: "Haley is one of the most productive players in America in the college game. Take a look at the stats, take a look at how she impacted the game. She has good size at 6-0. She gets to the foul line about as good as any player in college basketball a year ago and she has high skill. So, we really like that.  With all that skill, there is a toughness about her that was very, very attractive."

This tweet got some attention. Bella Alarie certainly would've made a difference in Durham over the past few seasons.
Elsewhere in women's basketball
Also read
Stay safe. Stay Inside. Y'all be good.
---
(Subscribe below. When you hit the subscribe button, you'll notice there's options for free, monthly and yearly subscriptions. For now, all of these posts are going to be free and visible to everyone. But if you want to throw me $5 a month, I won't stop you.)
---
"If they were great artists, they'd be in a museum."
---
Mitchell Northam is an award-winning journalist based in North Carolina. He grew up on the Eastern Shore of Maryland and is a graduate of Salisbury University. His work has been featured at the Atlanta Journal-Constitution, the Orlando Sentinel, SB Nation, NCAA.com, the Delmarva Daily Times, Sports Illustrated, Pittsburgh Sports Now, FanSided and elsewhere. He is a member of APSE, NWSLMA and USBWA. He's on Twitter 

@primetimeMitch

. More of his work can be found at 

MuckRack

.